Due to U.S. regulations, mobile carriers will block text messages that are sent from unregistered business phone numbers starting on September 1, 2023. If you send text messages from your storEDGE software, you must register your business brand/s in order to ensure that your text messages are delivered as intended.
For questions or help, support for the Text Message Registration Portal is available Monday through Friday, 8 a.m. to 6 p.m. ET. Contact our support team at support@storedge.com
How do I register?
You can find a link to our registration portal in your Corporate Settings. Click SMS Registration under the Marketing section.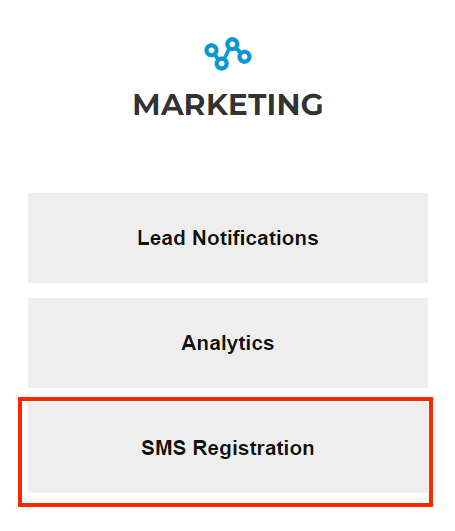 On the portal login page, enter one of your facility email addresses on file. This will generate an email with a login link. Your email addresses on file can be found in your Corporate Settings by clicking Facility Info, Edit, and then scrolling down to the Email field.
You can find a walkthrough for registering a Corporation or LLC in the video below.
Not a Corporation or LLC? View the walkthrough for Sole Proprietorships
Why am I being asked to register?
North American mobile carriers (T-Mobile, AT&T, Verizon) are implementing new standards for SMS messaging initiated and managed with software such as storEDGE. A2P (Application to Person) 10DLC (10 digit long code) is the standard that United States telecom carriers have put in place to ensure that SMS traffic to US end-users sent by typical 10-digit numbers is verified and consensual. This new protocol also provides higher throughput rates and increased reliability to ensure that your customer communications (known in mobile carrier terminology as "Campaigns") are delivered when and to whom they are intended. In order to ensure the integrity of this SMS traffic, carriers are requiring companies to register their "Brand" to validate that senders are legitimate businesses conducting legitimate business activities via SMS that are compliant with the expectations and restrictions for the network.
What is a Brand? What is a Campaign?
Brand - The company or entity the recipient believes to be sending the message, i.e. the company name you use as part of official business when communicating with your customers and that may be front and center on your Website and/or prominently displayed on your facility's physical site. A brand can and should represent several different physical locations - provided those locations are branded the same for purposes of customer/prospect communications.
Campaign - This represents an SMS messaging use-case such as sending account notifications or conducting marketing activities. Based on the type of SMS messages sent via storEDGE, Storable will be registering your campaign as "Mixed" which covers multiple use-cases such as Marketing, Customer Care and Delivery Notifications.
How is my Brand registered?
The mobile carriers have designated an organization called "The Campaign Registry" (TCR) as the central hub for registering A2P 10DLC Brands and messaging campaigns. TCR is an independent entity that is not associated with Storable and is the only entity authorized by U.S. mobile carriers for this purpose.
I have multiple facilities, do I need to register each as a separate brand?
You should not register each facility as it's own brand if they share the same brand. Create one brand and associate all of your facilities and phone numbers with that brand. For instance, if you own Bob Ross Storage - Location 1, Bob Ross Storage - Location 2, and Bob Ross Storage - Location 3, you should create Bob Ross Storage as your brand and associate all facilities with that brand. See the image below for an example.
If your company includes more than one brand, you do need to register each brand separately. You can then associate the appropriate facilities and phone numbers with each of your brands. For instance, if you own Bob Ross Storage - Location 1, 2, and 3 as well as John Doe Storage- Location 1, 2, and 3, you should create Bob Ross Storage and John Doe Storage as your brands.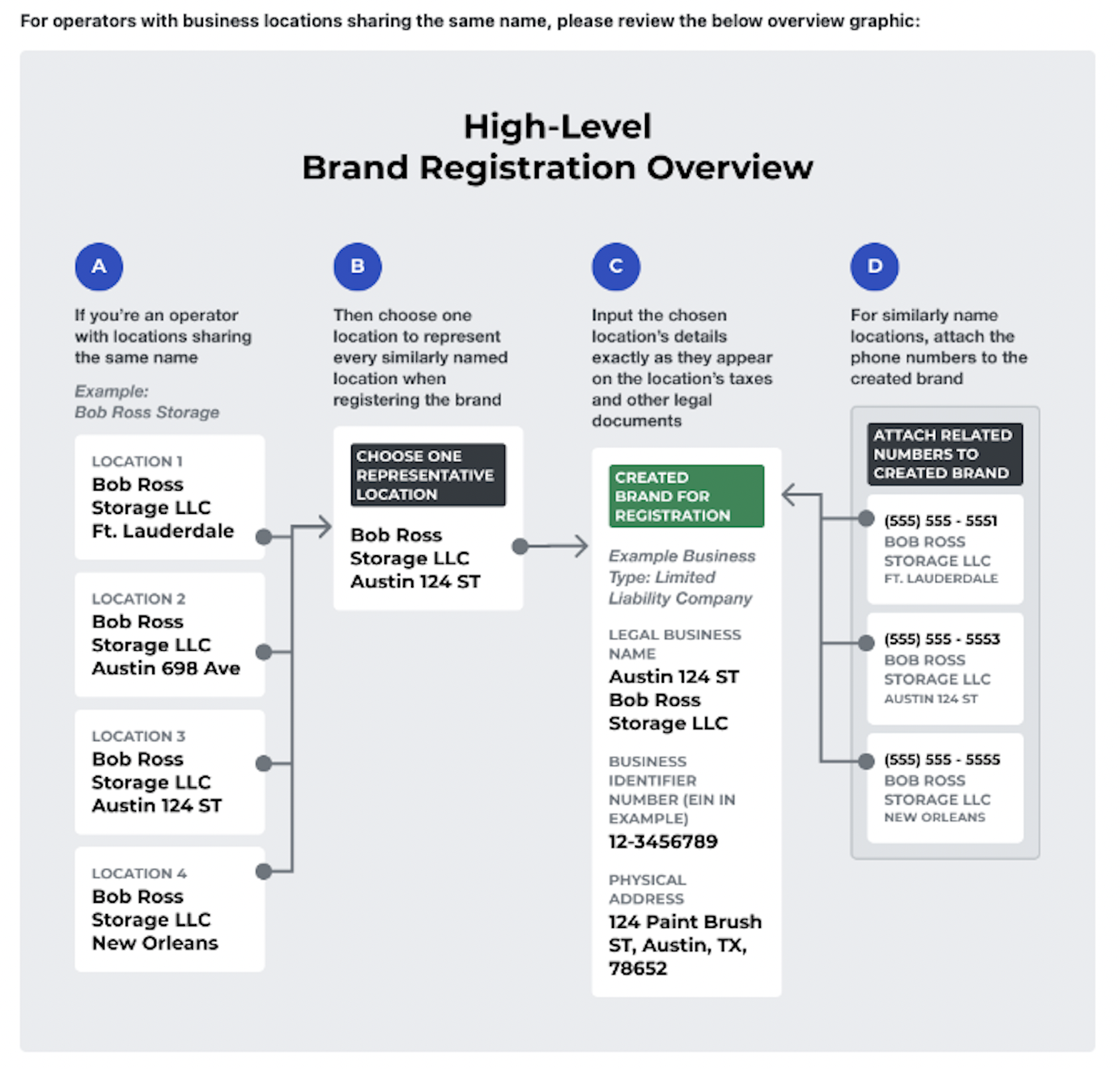 What information will be needed to register?
The following provides examples of the type of information that is required to identify your business and which will be used by TCR to validate that your business is a legitimate entity with legitimate business activities - a required step to enable use of the A2P 10DLC network. Additional information may be required depending on the type of entity under which your business operates (Sole Proprietorship, Partnership, Corporation, etc).
Business Name
Physical Address
Business Type (Sole Proprietorship, LLC, Corporation,

Partnership, Non Profit Corporation, Co-Op Corporation)

Company Status (Private/Public)
Business Registration Number (e.g. EIN, DUNS)
Website URL
At least one Authorized Representative name and contact information
One of the most common reasons for a registration failure is due to the business name or EIN being entered incorrectly. Please ensure the business name and EIN you enter matches exactly with your IRS registration. Refer to your EIN letter from the IRS and ensure the Business Name and Employer Identification Number that you're entering matches exactly what is displayed on your letter. See example below: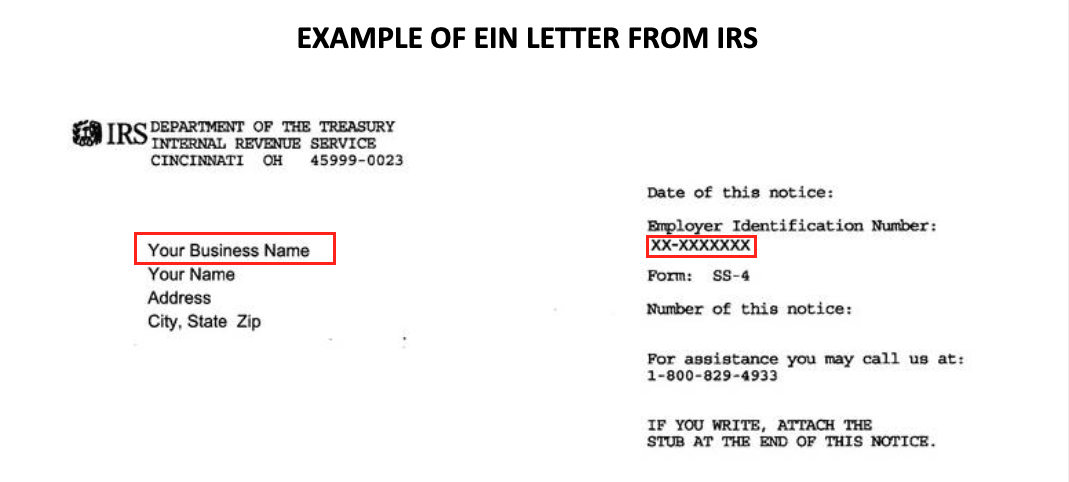 Sole Proprietor mobile phone number verification
If you register as a Sole Proprietor, you will be asked to verify your mobile phone number after you submit your registration. You will receive a text message from (915) 278-2000 to the number you entered in the Mobile Phone Number field. Please respond YES to the text message your receive within 24 hours to confirm your phone number.
For Sole Proprietor registration to be successful, you must enter a mobile number in the mobile number field. This phone number cannot be a landline or a number you've acquired from a provider such as Twilio/Vonage/etc. Your mobile number also cannot be used more than 3 times to register your brands.
How do I register if my Business Type is not a Sole Proprietorship, LLC, or Corporation?
At our initial launch of the registration portal, only Sole Proprietorship, LLC, and Corporations will be supported. We will be adding options to select additional Business Types in the future.
How do I register if my business is a Sole Proprietorship but I use multiple phone numbers for texting?
Due to limitations put in place by the U.S. Mobile carriers, customers who operate their business as a Sole Proprietorship (those who do not have an EIN) are limited to registering a single number for their Brand Registration. If you are a Sole Proprietor, attempting to register more than one number will result in the registration being rejected by The Campaign Registry.
If you need to register more than one number for the purposes of sending SMS messages (i.e. for multiple facilities), we recommend procuring an EIN. Then, in the registration portal, select LLC as your business type, enter your EIN, and your official company name attached to the EIN. You can find more information about the difference between registering as a Sole Proprietorship vs. registering with an EIN in Twilio's article: Comparison between Starter, Low Volume Standard, and Standard registration for A2P 10DLC.
If you do not wish to procure an EIN, you have the option to switch to a toll-free number for SMS messaging. Toll-free numbers are not included in the industry requirement for Brand and Campaign registration. This will require surrendering your existing text messaging number(s). If you would like to use this option, please contact the storEDGE Support Team at support@storedge.com.
Will I need a new phone number?
No - you will NOT need to select or procure a new phone number in order to register your brand or to continue to send SMS messages. As part of the registration process in the Storable A2P 10DLC portal, you will be asked to associate your existing SMS numbers with your Brand. Storable will take care of ensuring that TCR and the U.S. Mobile providers know which numbers are associated with your Brand and SMS campaigns.
How long will this registration process take?
Storable has created an easy to use registration portal to collect the relevant information and facilitate registration. Provided you have all of the necessary information at your fingertips, registration should not take more than 15 minutes. The validation process conducted by TCR could take 1-4 weeks which is why it's important that you register your Brand as soon as possible. As of August 31, 2023 all unregistered A2P traffic will be blocked by U.S. mobile carriers and will NOT reach your intended recipient.
What will Storable do with the information?
Storable collects this information in order to facilitate the process that is ultimately carried out by TCR to validate your Brand. As such, the information you provide will be transmitted to TCR via Storable's SMS technology provider Twilio. The status of your Brand registration will be maintained by TCR for as long as you are a Storable customer using storEDGE.
How will I know the status of my registration?
The Storable A2P 10DLC Brand registration portal will track the registration process and you can visit the portal at any time to see the status of your registration. Once your Brand has been registered, you will receive an email confirmation to the email address on file.
If there are any issues with the information you provided as part of this process, you will be contacted via email and directed to the portal to provide corrections, updates, or additional information to facilitate registration.
What if I do not complete the registration process in a timely manner?
Based on the policies established by the major U.S. carriers, all non-registered traffic will be blocked after August 31, 2023. This is not a deadline put in place by Storable, but established by the major U.S. mobile carriers on whose networks this SMS traffic is communicated. The validation process conducted by TCR could take 1-4 weeks which is why it's important that you register your Brand as soon as possible.
Is messaging to Canada, Puerto Rico, or any other countries also affected by these changes?
Canada: No, Canadian mobile carriers are not impacted at this time. Canadian mobile carriers may introduce registered A2P 10DLC solutions in the future, but at this time carriers have not announced any plans to do so. That said, if you are based in Canada and are sending text messages to tenants on U.S. carriers, you will need to register.
Companies in Canada who wish to text tenants on U.S. carriers
Register using your Business Number (BN) as your Identifier Number by selecting CBN from the Brand Registration Identifier dropdown menu in step 2 of the registration process. Enter the first 9 numeric digits of your BN (BN-9) in the Identifier Number field. For example, the bolded part of the following example is the part of the following BN should be entered as your Identifier Number: 123456789RT0001
Please ensure that the legal company name and address you enter is consistent with your business registration and is properly spelled.

Puerto Rico: Yes, Puerto Rico carriers are impacted as well. Many recipients in Puerto Rico have telephone services from U.S. based carriers. Messages to those recipients are treated exactly the same as messages to U.S. based recipients of those networks.

Other countries: For information about message sending in countries other than the U.S., we recommend checking out Twilio's country-specific SMS Guidelines pages to learn about any unique rules or restrictions in that country.
Where can I learn more about A2P 10DLC?
The Campaign Registry is the central hub for A2P 10DLC messaging campaign registration. In this new ecosystem, your company is a "Brand" and Storable is a "Campaign Service Provider" or CSP who works with multiple Brands to create and send SMS messages via software applications. Twilio is Storable's SMS technology partner and is a Direct Connect Aggregator who works with many companies such as Storable to facilitate A2P SMS traffic. Please do not attempt to register directly with the Campaign Registry. We will email you a link to our registration portal and pass the information to Twilio for registration.