Selling merchandise is simple in storEDGE. You can easily process retail transactions for tenants and non-tenants in one screen.
To begin this process:
1. Click on … in the Nav Bar. A dropdown menu will appear.
2. Click on Retail then Purchase.

The Retail Purchase screen will open.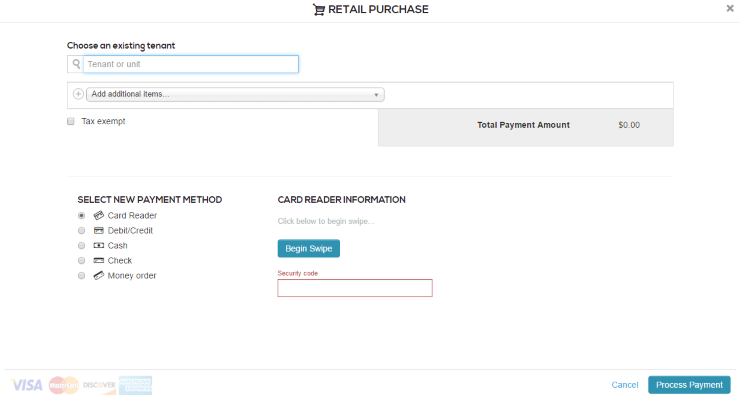 3. a. To associate the purchase to an existing tenant, enter that tenant's name or unit number in the Choose an existing tenant field. The screen will change to the normal payment screen where the Add additional items button is at the bottom of the charges table.
b. To sell merchandise to a non-tenant, leave the Choose an existing tenant field blank.
4. Click Add additional items dropdown menu.
Note: To make product codes searchable for retail items during a retail purchase, navigate to your Software Settings in the Corporate section of your software. In Billing Settings, select "yes" to the option Show Product Code with Description in Retail.
5. From the list, select the item you wish to sell by clicking on its description. The quantity is set to 1 by default. Increase the quantity by typing in a larger number in the Quantity field.
6. Click Add additional items dropdown menu again to add more items.
7. If the customer is tax exempt, check the box next to Tax exempt.
8. Select the payment method by clicking the button next to the desired method.
9. Type in the required information in the appropriate fields, then click Process Payment.
On the next screen, a message will appear confirming the success of the payment. You can print and/or email the receipt for the customer:
Click Print beside Receipt to print the receipt for the tenant.
Fill out the field labeled Email address and click Email to send the tenant the receipt via email.
Add a retail item to upcoming tenant charges
If you would like to add a retail item to a tenant's upcoming charges instead of immediately taking payment for the merchandise, you can add the item from the tenant's profile.