The tenant ledger provides a comprehensive look into an account's balance and history. You'll visit this area of a tenant profile when trying to:
To access the tenant ledger, navigate to any tenant page and click the Ledger tab near the top right.

View Account Status
The top portion of the ledger provides a snapshot overview that includes: unit and account balance, security deposits, prepay and credit balances, and the unit's paid through date.

See All Transactions
Located just below the account overview box you'll find a table outlining all financial actions taken on an account. This table combines monthly charges, tenant payments, retail purchases, and any adjustments to the account. Use the left side of the gray filter bar to view actions within a specific date range or the right side to print or export results.

On each table row you'll find the action's date, description, associated service period and promos (if applicable), charge or payment amount, and the new account balance. Additional actions can be found by clicking the arrow along the right side of each row.
Generate A Statement  
While the transactions table is helpful to understand the actions that led to the unit's current balance, viewing a statement is valuable to hone in on exactly what remains unpaid for the entire account at the moment the button is clicked. All open charges can easily be combined on one pdf statement at any time. To begin:
Click the View Statement button located beneath the Pay Now button.



Your pdf statement will open in a new tab to view, print, or save.
Apply Payments, Charges, and Adjustments
From the ledger, there are three main locations to take action on an account:
The adjustment buttons along the top right of the account overview box

The payment button located to the right of the unit balance in the account overview box

The small arrow dropdown menu along the right of each row in the transactions table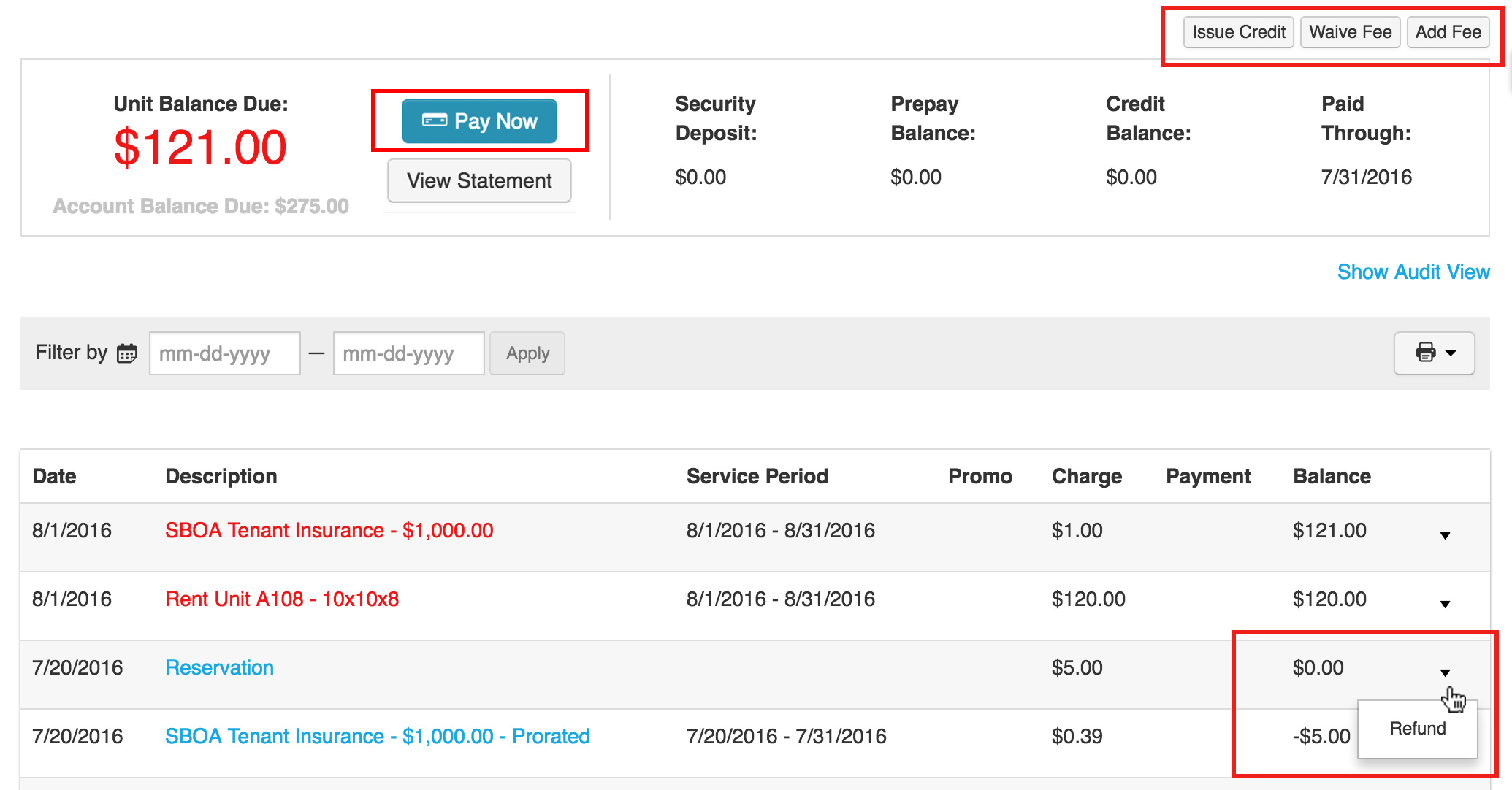 The actions along the top adjust the overall unit balance while the actions found in the arrow dropdowns vary based on the type of transaction. For example, a payment can be refunded and an invoice can be voided.