If you have Storable Access Control installed and activated as your gate control system, you'll have an Access tab on the facility level of your software. From the Access tab, you can see information about your access points and gate activity for the Storable Access Control system. This guide will assist you in:
Understanding the Access tab
Your Access tab contains information and functionality that helps you keep up with gate activity and details about your entries and exits.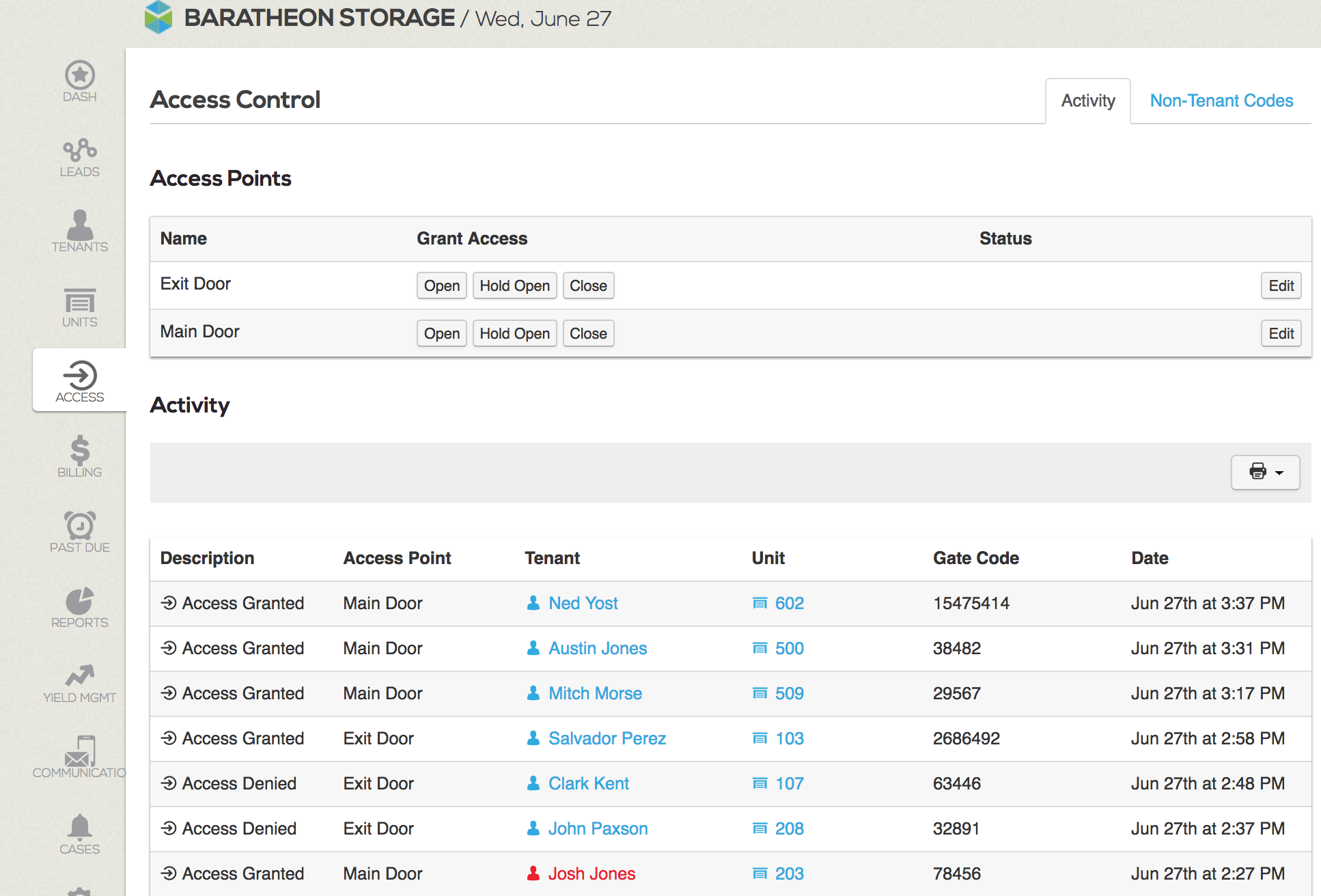 Access Points
The Access Points section lists the entry and exit points where you have access controls installed, along with the option to Open, Hold Open, or Close the access point.
Open

:

Selecting this button will unlock the access point.

Hold Open

: Selecting this button will unlock the access point indefinitely. It will remain unlocked until you click the Close button.

Close

: Selecting this button will lock the access point.
Gate Activity
The Activity section gives you details about activity for all access points you have set up at your facility. You'll see details about each access attempt, including which of your tenants attempted access, whether access was granted or denied, and which gate or door encountered an access attempt. Various details are also displayed, such as the gate code used and the date and time that access was attempted.
These same details are displayed at the bottom of each tenant page under the heading Recent Activity.
Additionally, when someone enters their code at one of your gates or doors, you'll receive a pop-up on your screen informing you of the access attempt. This screen pop will give you details about whether access was granted or denied, and if the access attempt was made by a tenant, a non-tenant, or an unknown person.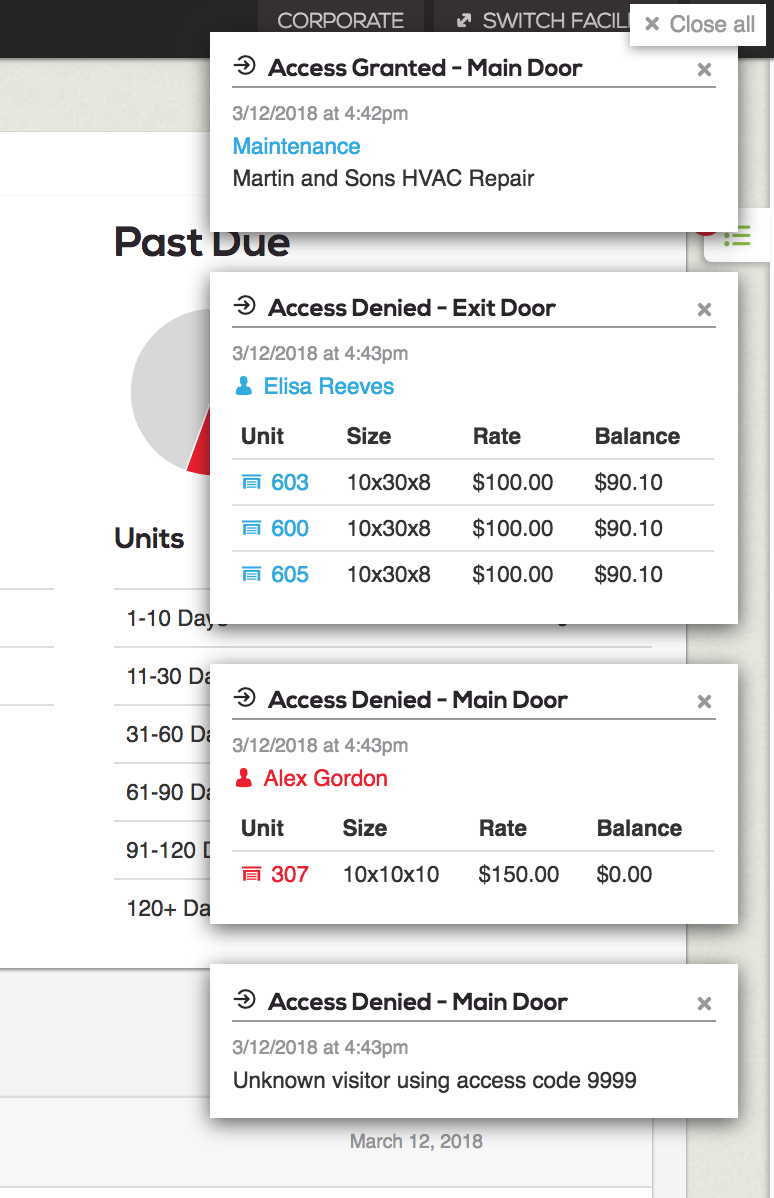 If the code used to attempt access is tied to a tenant, you can hover your cursor over the tenant's name or the unit number for more details about the rental.
Access screen pops are optional and can be turned on or off for a user through user permissions.
Managing non-tenant access
There may be times at your facility when you'd allow access to someone who is not a tenant, such as a maintenance person or landscaper coming to do work at your facility. Additionally, some facilities might want to designate a specific code for staff use. You can set up non-tenant access on your Access tab in the Non-Tenant Codes section.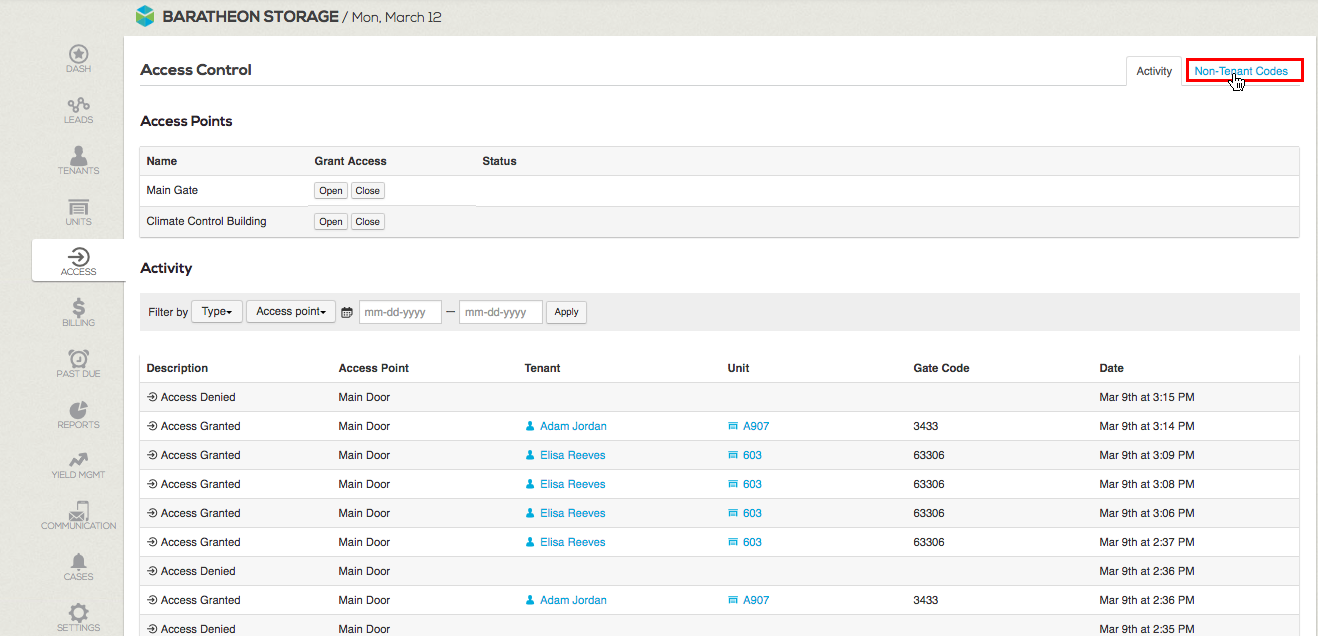 Once you've accessed the Non-Tenant Codes section of the Access tab, you'll see details about all of your non-tenant codes that you have setup with Access Control.

To create a new non-tenant gate code, select + New Gate Code. Enter a name for the gate code, assign a code, and select one of your access groups from the drop-down menu. You can also enter an optional description. When you're finished, select Save.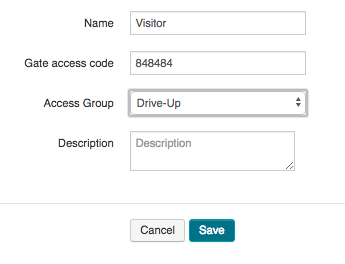 Editing user permissions for Storable Access Control
The Corporate section of your software contains several settings that control whether a user can make Access Control changes, view activity, or change gate configuration. To adjust these settings, access Corporate settings and select Roles.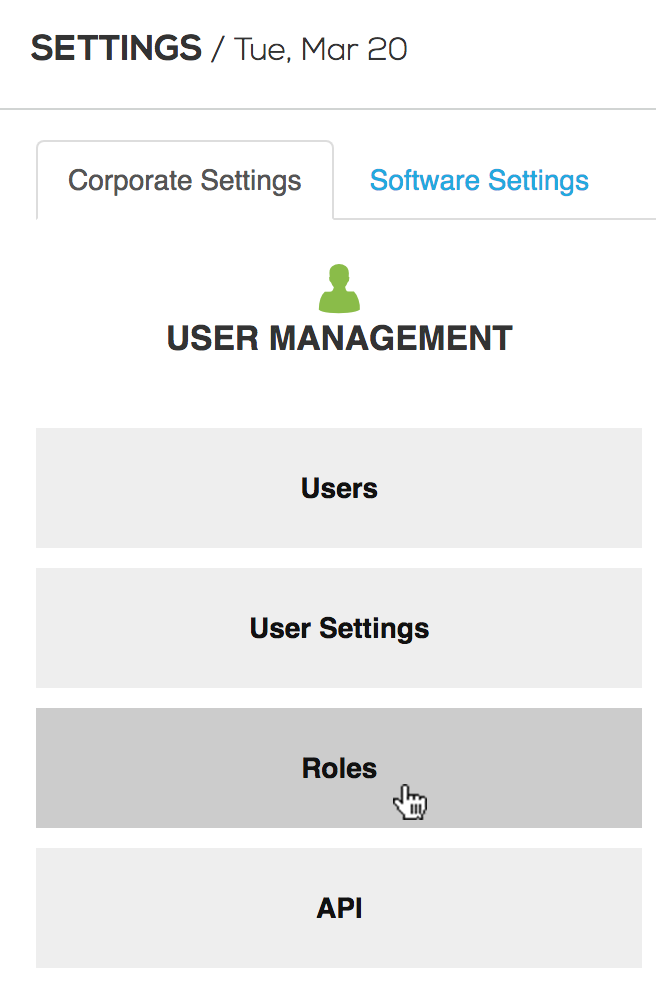 Choose the role for which you'd like to adjust access permissions and click Edit to the right.

There are several permissions that pertain to gate and access issues. To give a user permission to set non-tenant codes and make adjustments to access groups and hours, ensure that their account has Manage Cloud Access Control turned on. To give a user permission to view gate pops and other access notifications, ensure that View Cloud Access Control Activity is turned on.