The Credits Issued report is an itemized list of all credits issued during the date range selected. It includes the tenant's name, unit number, the date the credit was issued, the source of credit, the date of the original charge, a description of the original charge, the amount credited, the notes entered when the credit was issued, and the user who issued the credit.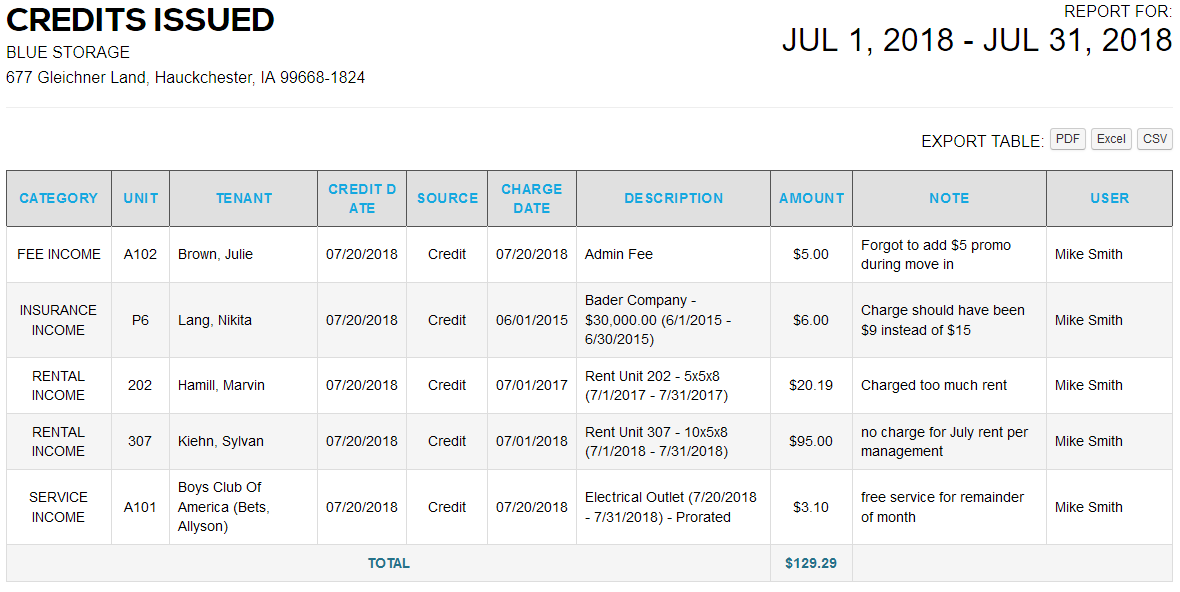 Typically the types of charges in storEDGE that can be credited are rent, insurance, misc revenue, and services. Accessing the tenant's ledger and clicking the small black triangle (▼) on a rent, insurance, misc or service charge will allow you to issue a credit for those charges. Also clicking the Issue Credit button in the upper right corner of the tenant's ledger will list these categories of charges for you to credit. Specifying a specific item to credit is called a Line Item Credit.
Occasionally you'll see fees, security deposits, or retail items on the Credits Issued report. That is because of the other way to issue credit: General Account Credit. Clicking the Issue Credit button and selecting General Account Credit applies a credit to the tenant's ledger based on the payment order specified in your facility's billing settings. For example, if your payment order is Fees Before Rent, a tenant owes $50 in rent and $5 in fees, and you issue a $10 General Account Credit, $5 of the credit will be applied to the fee and $5 will be applied to the rent.