Your gate access system is an important part of your facility's security. Having a system that not only works efficiently as expected, but also sends you real-time updates through your software, will help you stay informed about a variety of aspects of your business. With Storable Access Control, you'll quickly gain insight on your facility's most popular access times, which of your customers are visiting most often, and other useful information regarding your facility's access trends.
Once you've signed up for Storable Access Control, you can set up your system after your gate control hardware has been installed.
Setting up Storable Access Control
Once your access control hardware has been installed, you can complete the rest of your setup. To begin setup, access your Gate Integration settings from the Settings tab.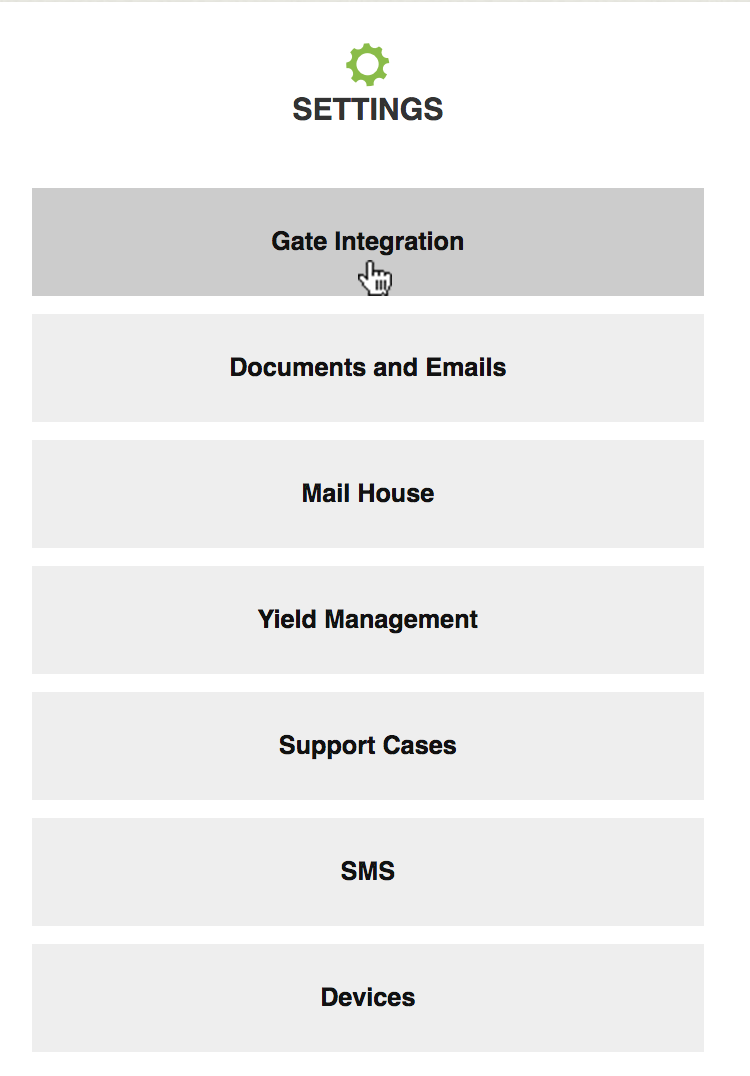 If you already have a different gate provider set, select Change gate configuration to get to the selector dropdown. If you do not have a gate integrated, select storEDGE Access Control from the dropdown.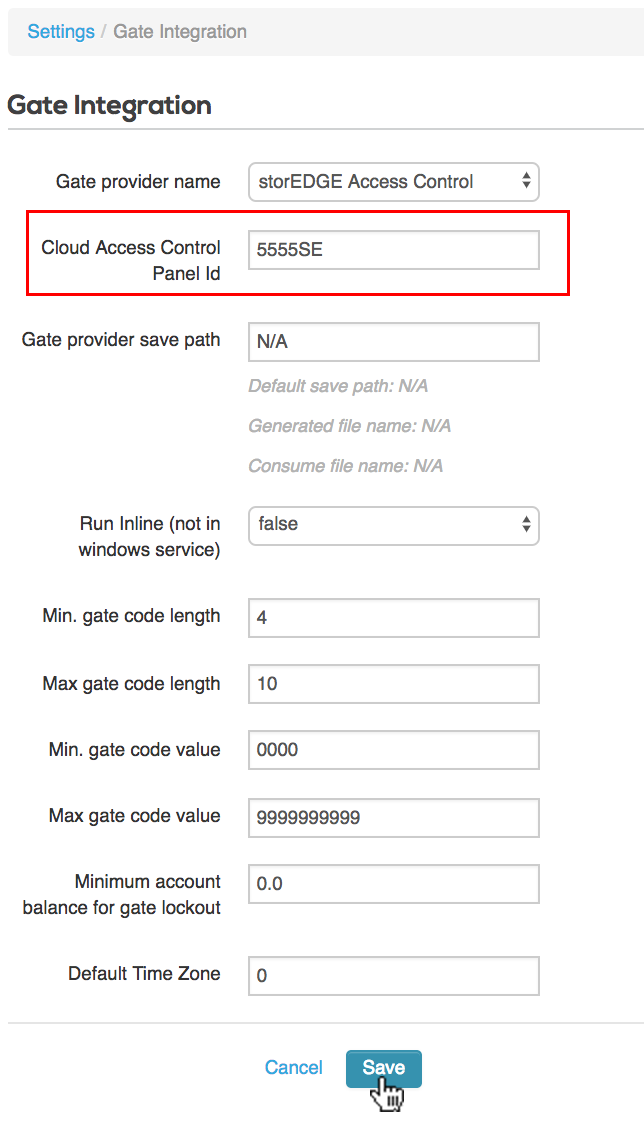 Next to Cloud Access Control Panel Id, enter the assembly serial number that appears on your gate control hardware. When you're finished making changes, select Save.
After you've entered your control panel ID and saved changes, you'll need to contact storEDGE (support@storedge.com or (913) 954-4745) and ask us to sync your access points.
Once we've synced your access points, you will be ready to rename them (optional) and set up your access groups.
Editing access points
Your access points were set up for you when your hardware was installed. However, you can make some adjustments to how these access points appear in your software by renaming them if you choose.
To edit an access point, select the Edit button next to the access point.

From here, you can use the selector to choose the access point you'd like to rename and enter a name in the field above it. When you're finished, click Save.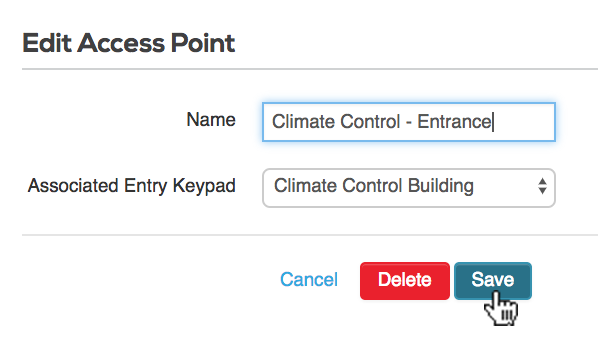 Setting up access groups
You'll need to assign your tenants to an access group for them to have access to your facility. An Access Group is a profile that, when applied to a tenant account, controls which gates and doors they are permitted to access and when they can access them.
When Storable Access Control is installed, all tenants will automatically be assigned to whichever access group is designated as the default group.
To add a new access group, select + New Access Group. To edit an access group, select Edit next to the access group listed.

If you are creating a new access group, enter a name for your group. Then, select the opening and closing hours you'd like to assign to the group. When you're finished, select Save.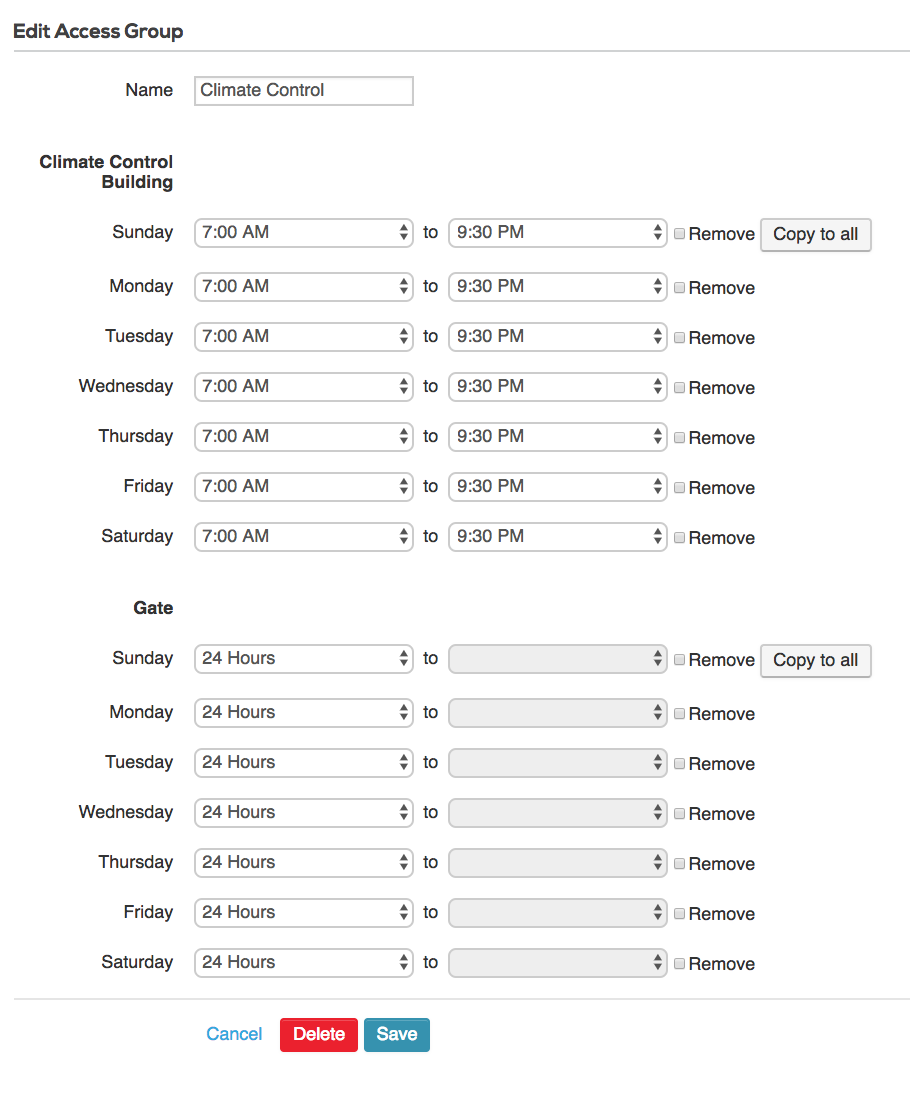 To set an access group as the default, just click Set as default next to the access group you'd like to designate as default. You can change a tenant's access group by accessing their tenant profile and selecting an access group on their profile's Gate Access tab.
If you have non-tenants who you'd like to have access to your gate or specific entry and exit points, you can assign them to an access group from the Access Tab. Check out our Access Tab help article to learn more.