Your software includes the ability to block online payments through the Rental Center or any integrated 3rd party application, such as kiosk technology, for tenants who you'd prefer to physically visit your facility to make a payment. For example, if a tenant has had numerous chargebacks or if you suspect a tenant has attempted to make fraudulent payments, it's useful to be able to block online payments from such tenants. Blocking payments ensures that the tenant must come in and speak to a manager to make a payment and avoid delinquency.
This article will give you insight into:
How to block and unblock payments for a tenant
Blocking online and phone payments from a tenant is simple. Access the tenant's page and navigate to their Payment Methods tab. In the Block Payments section at the bottom, you'll find the On/Off button. Click On.

Once you've blocked payments, you'll see a message displayed in the tenant's account reminding you that their online and phone payments are blocked, and you'll notice that autopay has also been turned off for the tenant. You'll also see that the On button is highlighted.
To unblock online and phone payments for a tenant after issues have been resolved, click the Off button.

Note: If the tenant previously had autopay set up, autopay will not automatically come back on. You'll need to turn it back on for the tenant.
What happens when you block payments for a tenant
When you block payments for a tenant, several things happen:
Autopayments are disabled for the tenant.

When physically taking a payment, the payment window will display a message that online payments are blocked for the tenant.
When a tenant tries to make a payment through the Rental Center while payments are blocked for their account, a message will be displayed on their account letting them know that they must call or visit the facility to resolve the issue.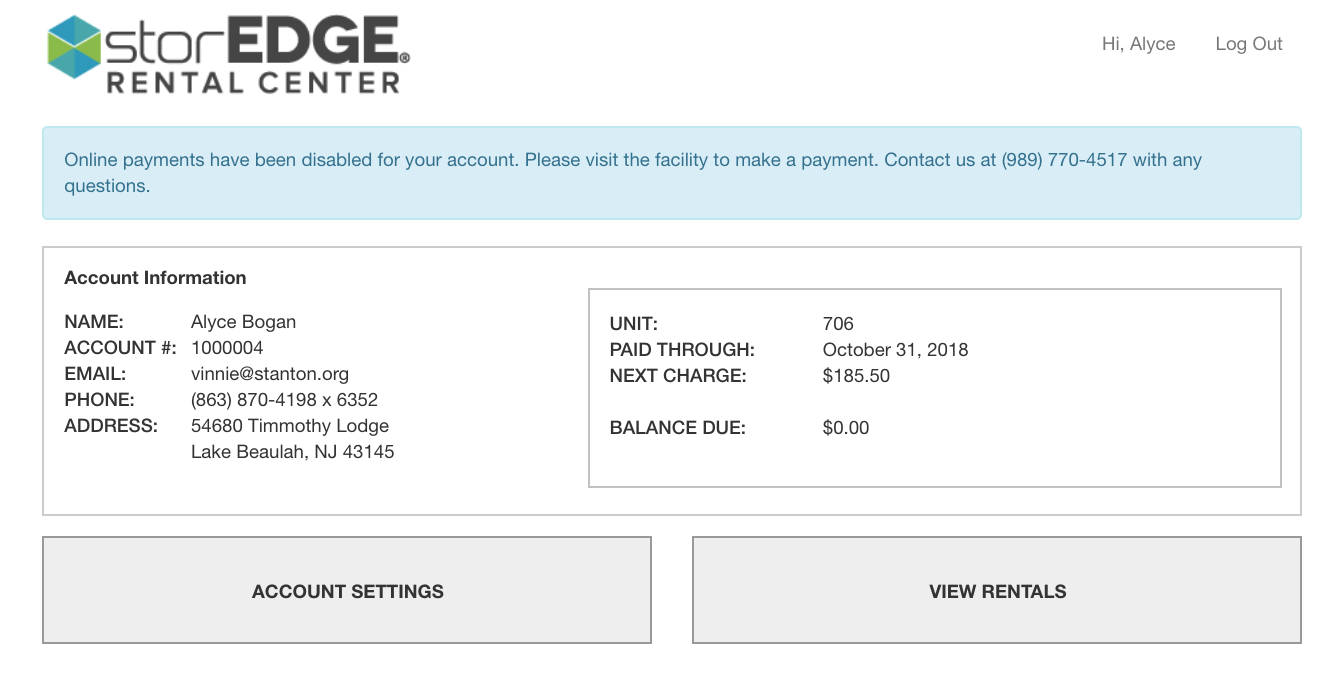 Additionally, a tenant for which you've blocked payments will be unable to rent an additional unit.