It's beneficial for both you and your storage customers to be able to have a conversation via email. With two-way emailing, your customers can easily respond to automated emails regarding delinquency, rate changes, and other system-generated messages. Your customers' ability to respond to email helps you open a dialogue about issues you may need to discuss. This makes you more accessible to your customers as well.
Two-way email allows you to initiate email communication outside of the automated email notification you've set in your software. Tenants can respond to both user-initiated and automated emails using this functionality. At this time, it does not allow tenants to initiate emails to your facility; it only allows them to respond. If you'd like to use two-way emailing, contact support@storedge.com and we will enable this feature for your facility.
This article will instruct you on:
Emailing a tenant
If you need to reach a tenant outside of the system-generated emails you have set your software to send on your behalf, you can email a tenant by accessing their details and clicking on their email address. You can click a tenant's email address anywhere it appears in the software to open a new email.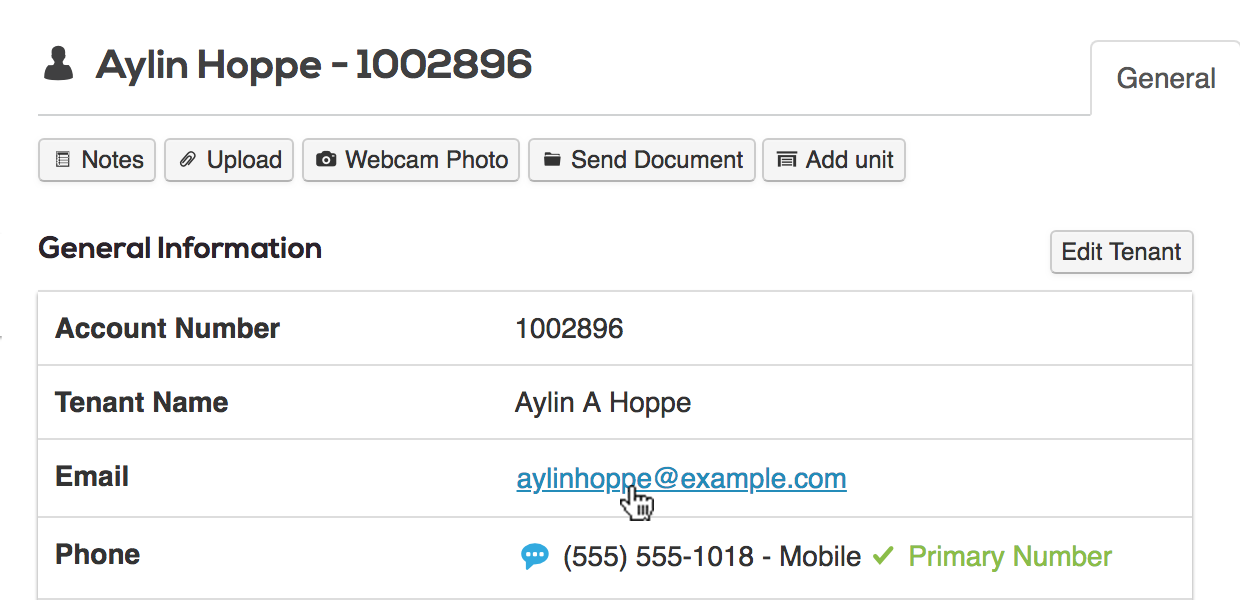 A new window will open that will allow you to compose the email. Enter a subject line and write the body of your email. You can use basic formatting tools like bolding, underlining, or italics if you choose. You can also add links, tables, images, or emojis and adjust alignment.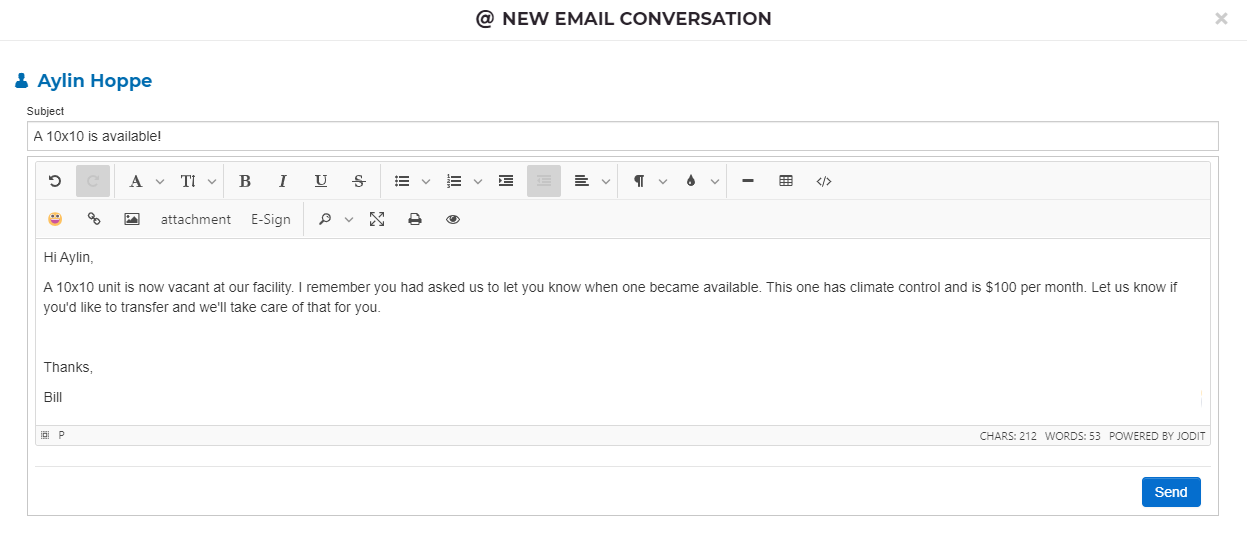 Attach documents
You can attach documents from your computer by clicking the paperclip icon. This is useful if you need to share a photo or text document with your tenant.

You can attach the following file types to two-way emails: .csv, .doc, .docx, .eml, .odf, .odt, .pdf, .txt, .xls, .xlsm, .xlsx, .gif, .jpeg, .jpg, .png, .svg, .tif, .tiff, .mov, .mp3, .mp4, .wav
Click the preview button to see what the email will look like. This is especially useful if you have enabled layouts for two-way email.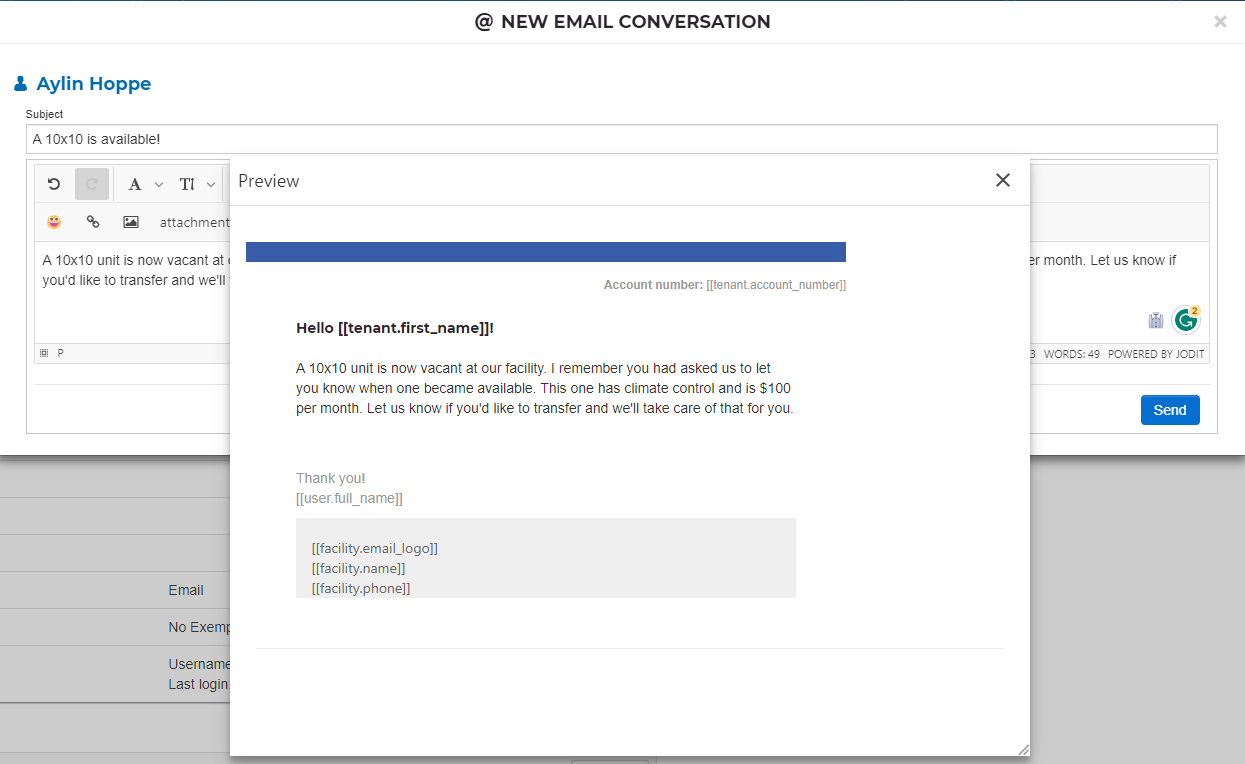 The replacement fields (ex: [[tenant.first_name]]) will be filled in when you click send.
Insert an e-sign link
You can include an e-sign link to easily collect signatures on tenant documents if the tenant's unit has unsigned e-sign documents attached to it.
Click the E-Sign button in the toolbar.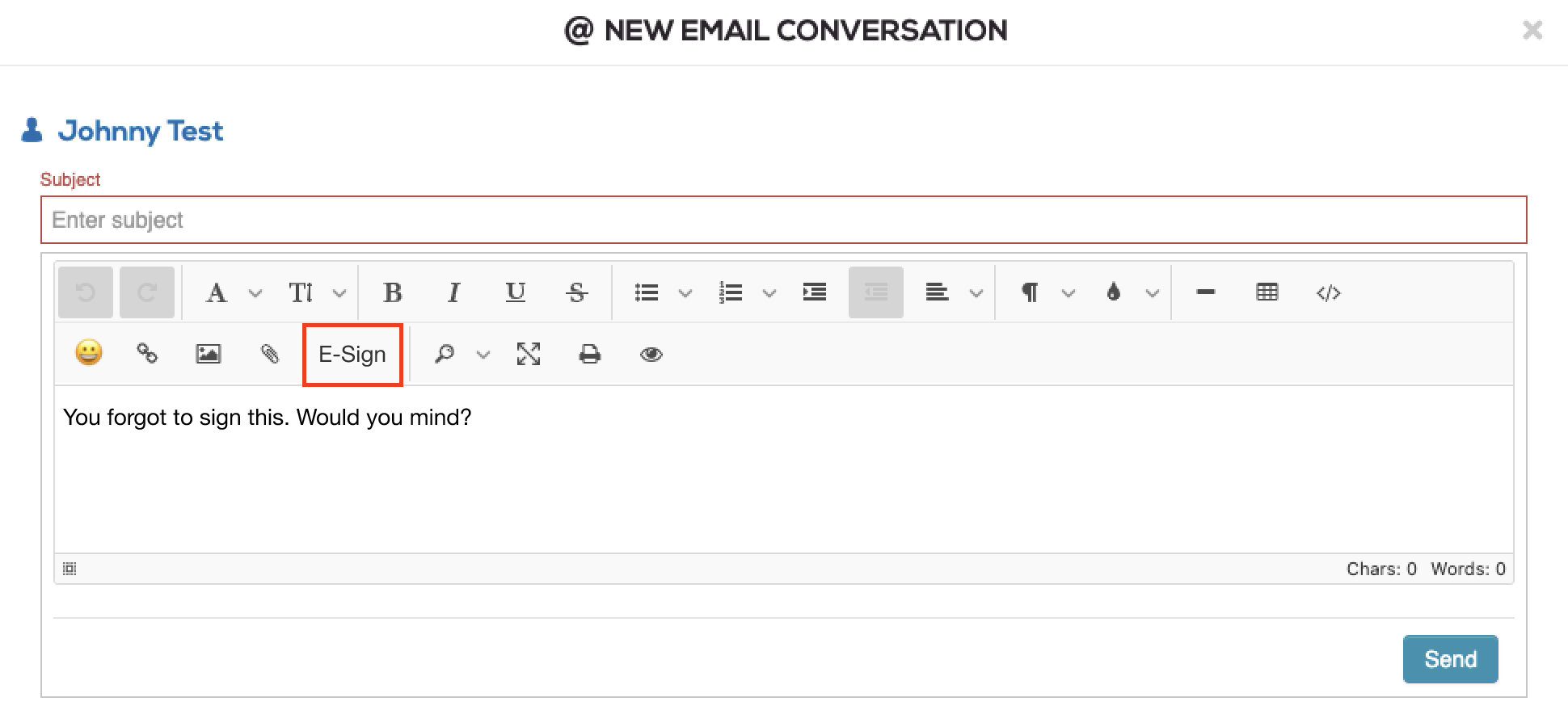 Select the e-sign document you'd like to include. If the tenant has more than one unit, you will also need to select which unit the document applies to. Please note: Only units with an unsigned e-sign document will be available to select.
Add text to the Link Label field to be used as the text for the hyperlink.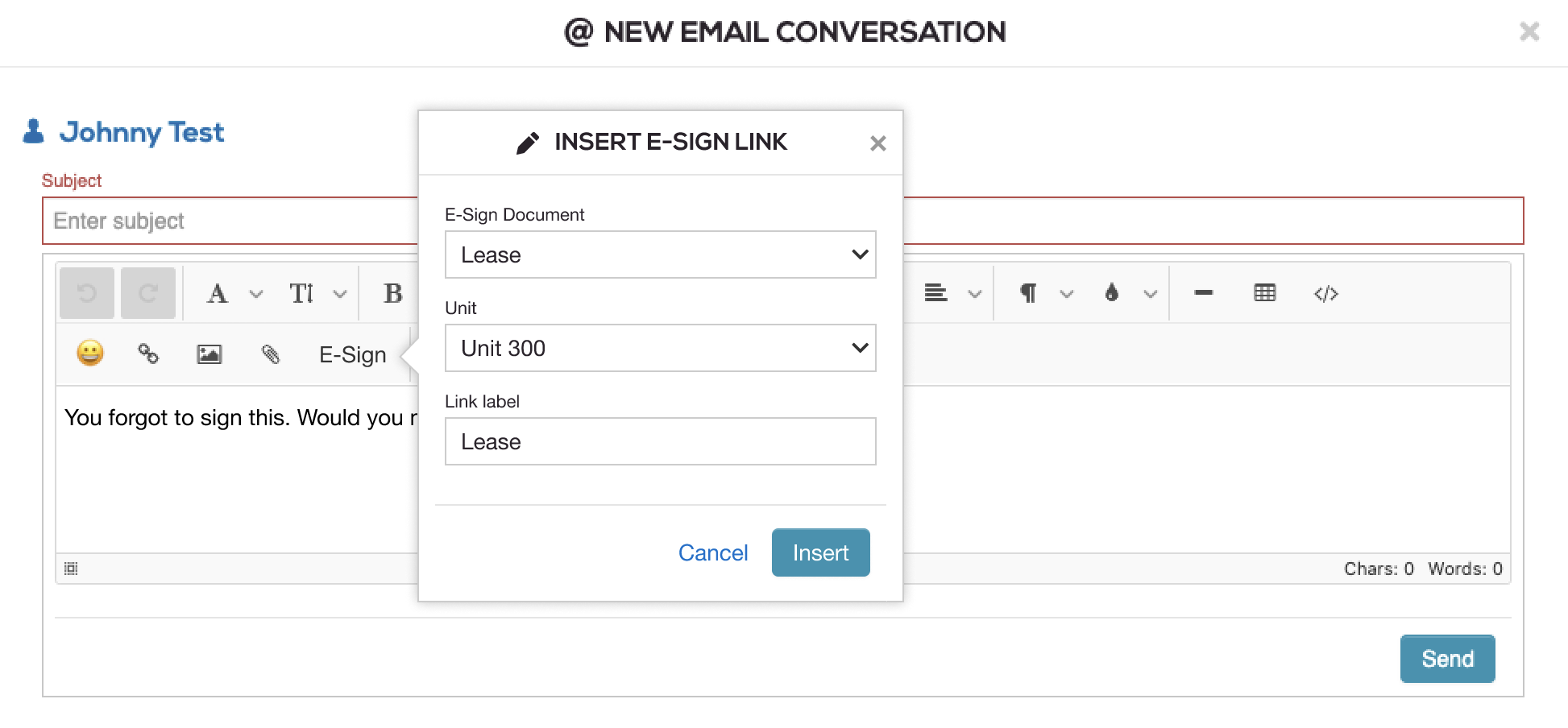 Click Insert. You will see the link added to the body of your email.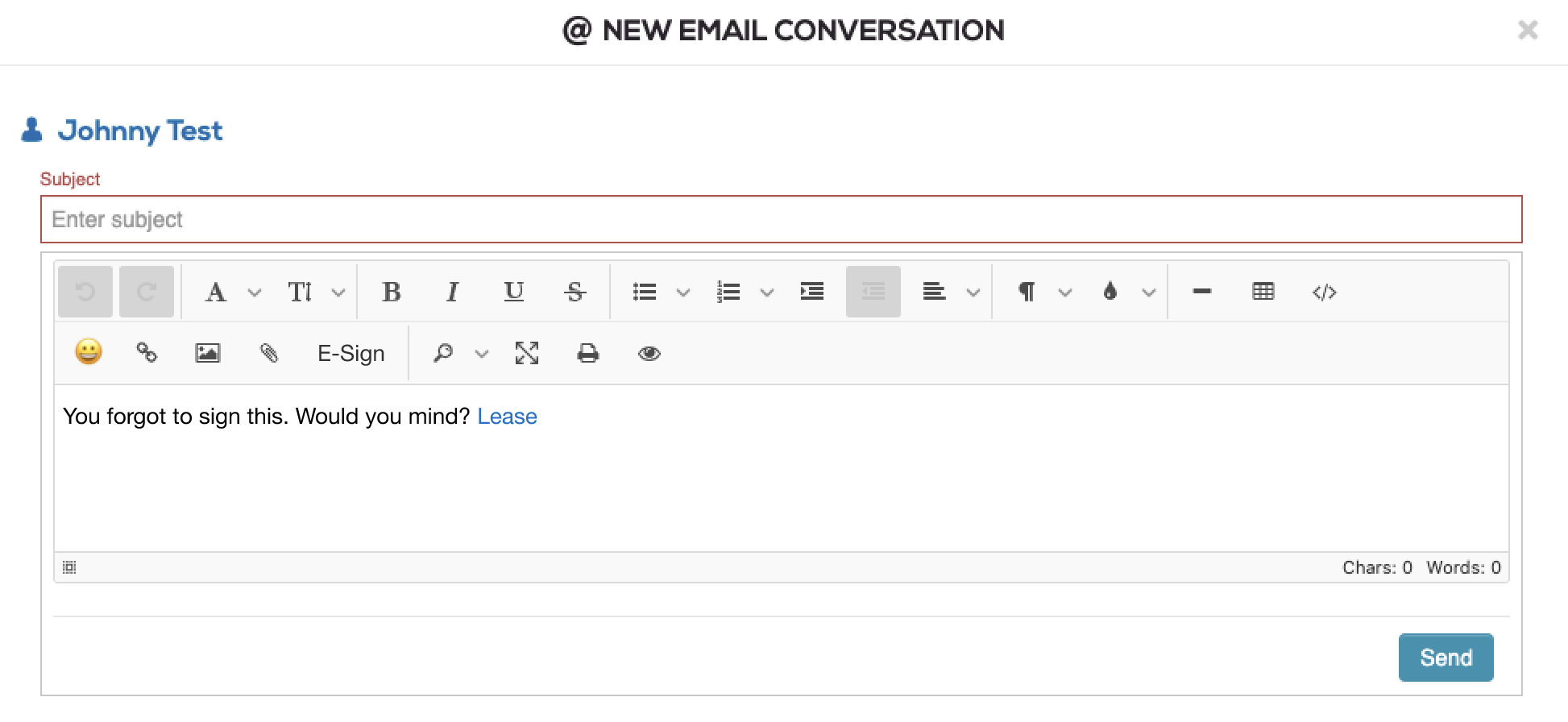 Once you've composed your email, click Send.
Receiving email replies
If a tenant replies to an email, there are several places where you can view their reply. You'll receive a notification on your Task List under Email Received. You can also receive a Google Chrome browser notification.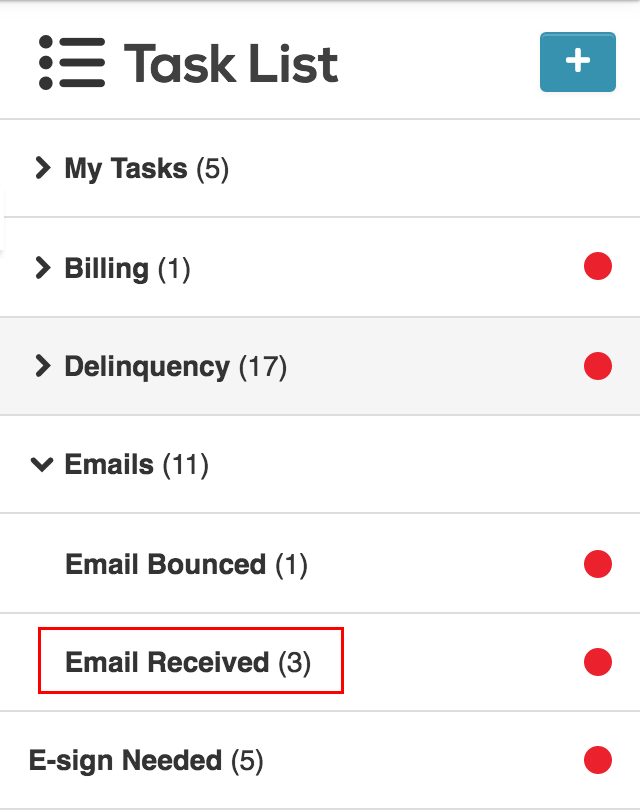 After clicking into Email Received, you'll see a list of your unread email replies. To view an email, click the tenant name and the email will open.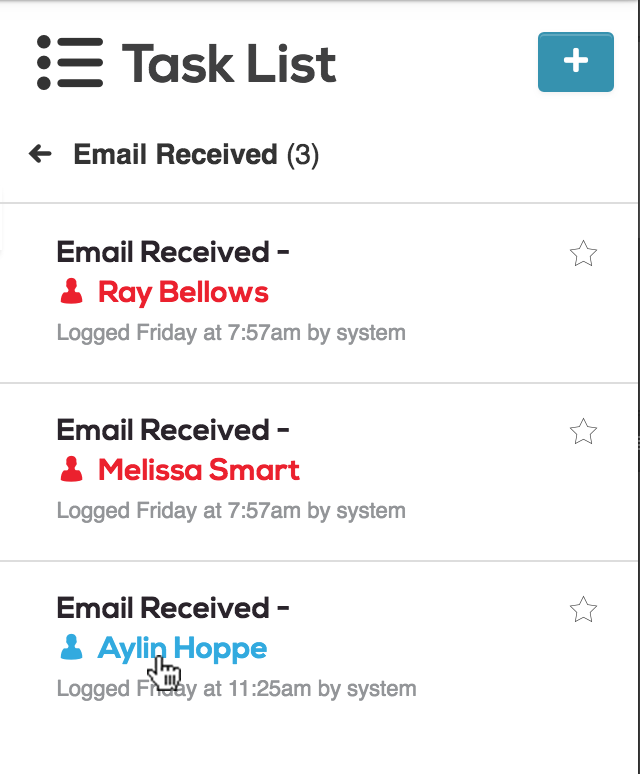 Here, you'll see the email details. You can click See Details to view the record of email activity, which includes details about the email's status and when it was created, sent, delivered, and opened. You can also reply to the email from this window. In the top right of the email window, you'll notice a Pay Now button and a Notes button that you can use as shortcuts if the subject of the conversation is relevant to those functions.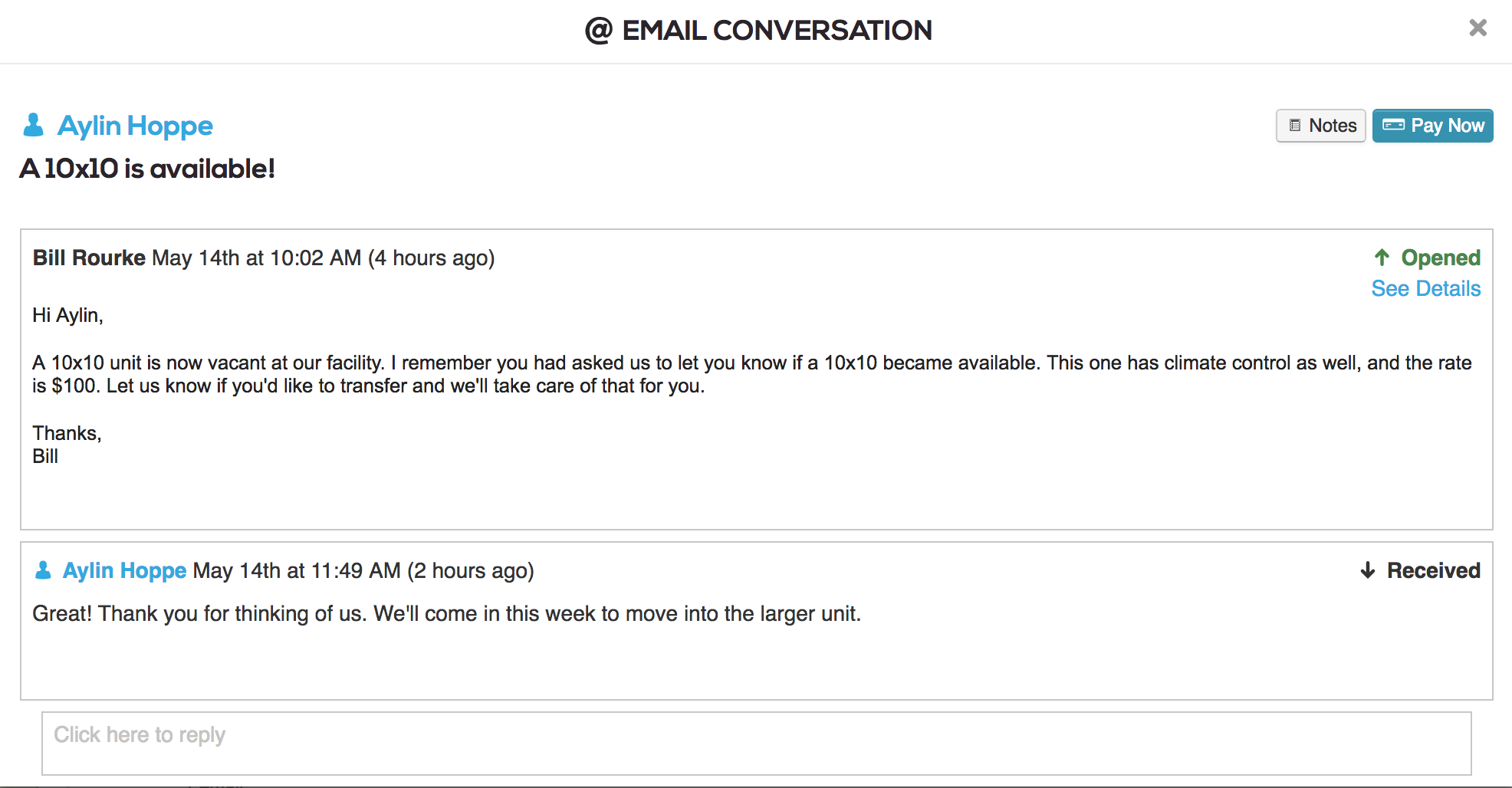 Save or delete a file from two-way email
When you'd like to save a document such as a driver's license image, proof of insurance, etc. received via two-way email directly to the tenant's profile, simply click the file box icon next to an attachment. To delete the file, click the trash icon.

When saving, you'll be prompted to select a File Type from the dropdown menu.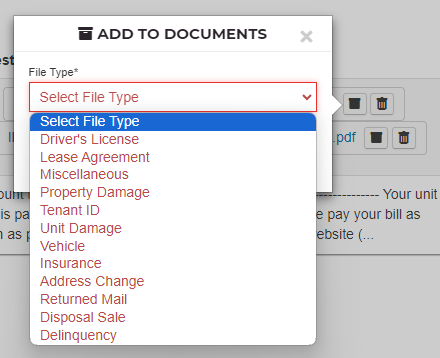 The following file formats are supported: PDF, PNG, JPG, or TIF.
You can then view the document on the tenant's profile by clicking the Documents link from the success message.
Viewing email history
You can view email communication history from both the Tenant Profile and the Communication tab.
From the Tenant Profile
Access a tenant's page and click into their History tab. Any emails sent to the tenant will appear in this list. Sent emails will be labeled as Email sent and emails that the tenant has opened will be labeled as Email opened. You can view the email by clicking the Open button. Doing so will allow you to view the entire email conversation.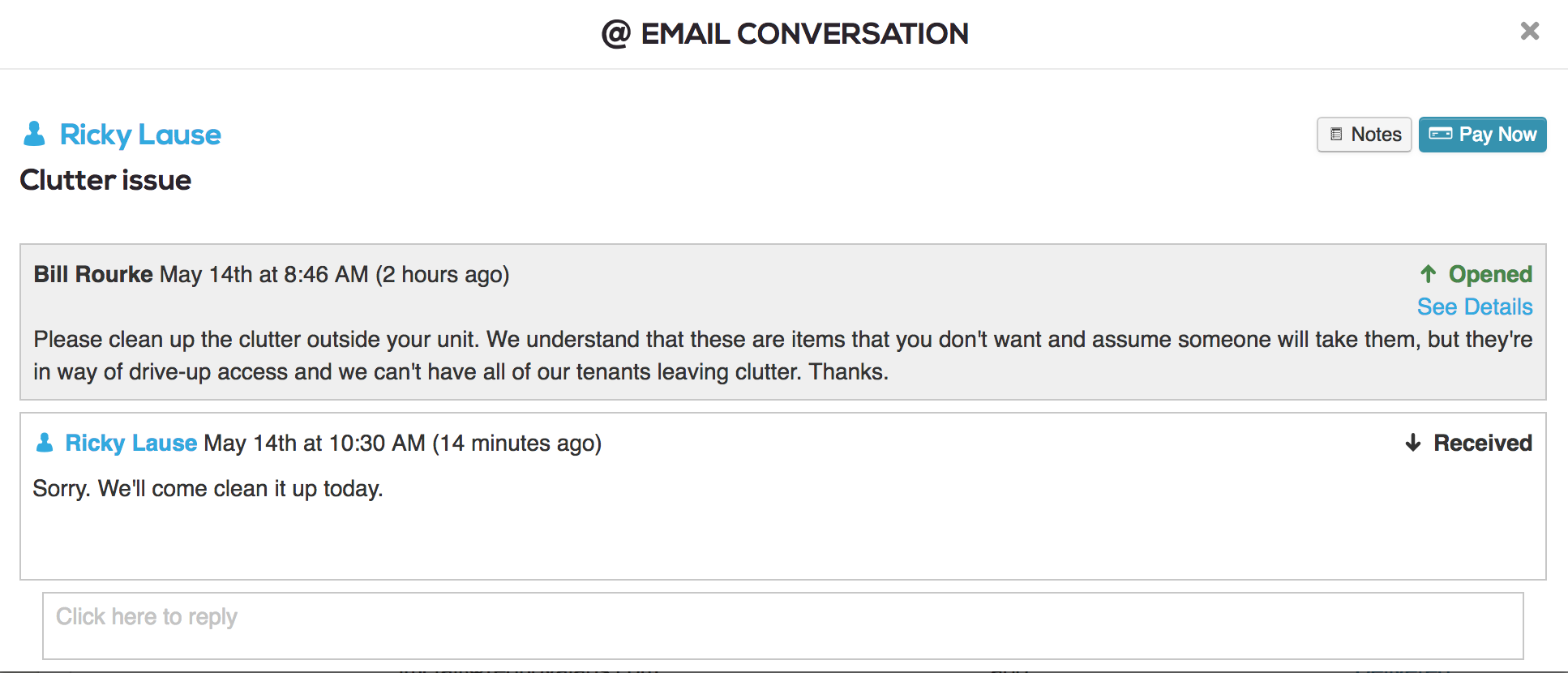 On the Emails section of your Communication tab, there are two ways to view email history. You can select to view Individual Emails or Conversations.
Individual Emails
When viewing Individual Emails, you'll see the status of each email. Statuses include:
Created: Email has been saved, but there have been no attempts to send the email.

Pending: Email needs to be sent.

Failed: Email was not accepted by the email service provider.

Sent: Email has been delivered to the email service provider.

Delivered: Email has been delivered to the recipient's email host.

Opened: Email has been opened by the recipient.

Bounced: Email could not be delivered to the recipient.

Spam: Email was considered spam by the receiving internet service provider or recipient.

Resent: Email has been resent. A new email will be attached to the original email.

Undeliverable: The storEDGE software user tried all methods to send and resent the email, but the email still is unable to reach the recipient's email host. The user marked the email as undeliverable.

You can view any email by clicking the Open button next to the listed email.
Conversations
From the Conversations view, you'll see email replies from your tenants. Just like the Individual Emails view, you can open any of the replies listed. This tab contains only emails to which tenants have replied.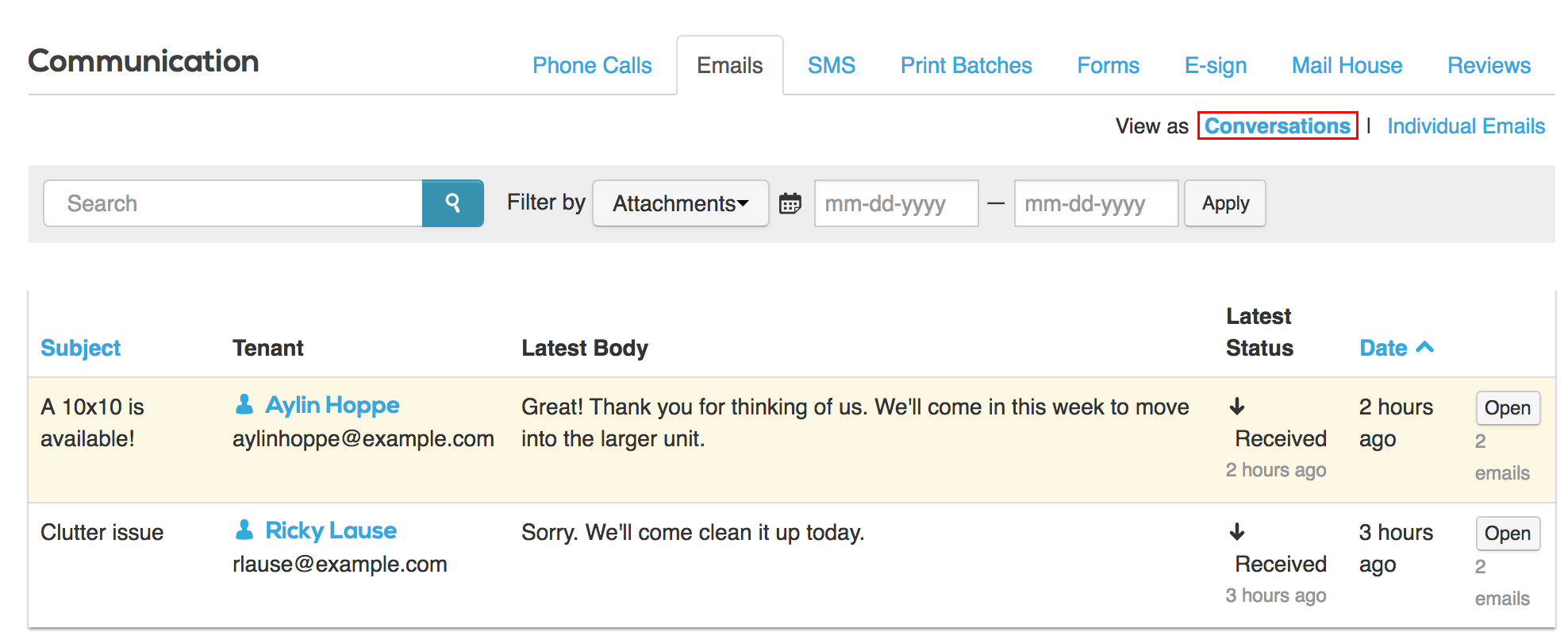 Adjusting email permissions
Some facilities may choose to restrict which employees can view and respond to emails. To adjust email permissions for a user, access your software Roles in your Corporate Settings.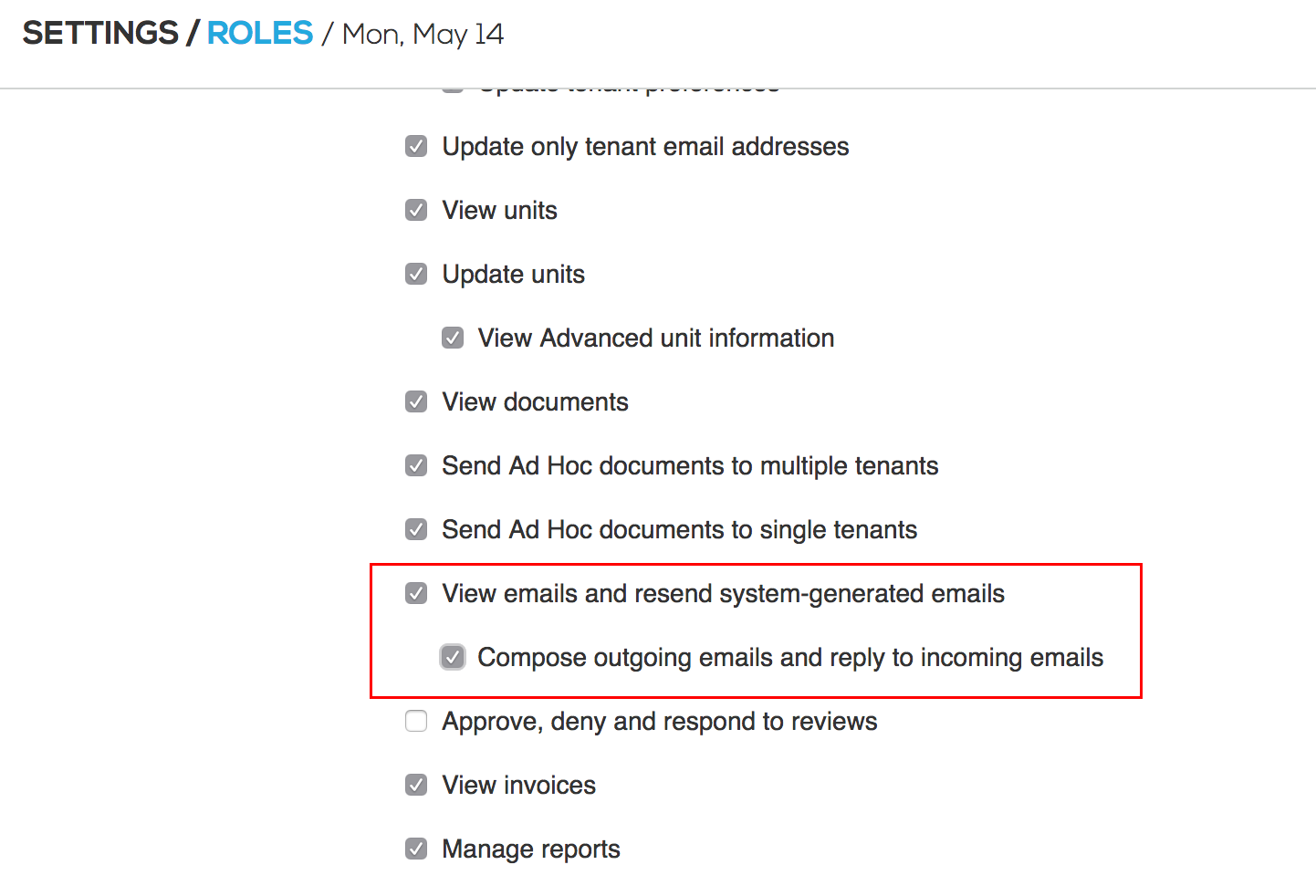 To allow a user to view all email communication and resend any system-generated emails, check the box next to View emails and resend system-generated emails. To allow a user to also initiate new, non-system-generated emails and to reply to emails from tenants, check the box next to Compose outgoing emails and reply to incoming emails.
Email Q&A
Is there a way for tenants to initiate an email that goes into the software?
No, not at this time. Tenants can only respond to emails that have been initiated by software users or automated by your software.
All my tenant email goes into Outlook. Will it still go into Outlook?
You'll receive responses to your emails in the same place where you initiated the email to the tenant. For example, if an email is sent to a tenant from the software, then the reply will go to the software and not to Outlook. If you send an email from Outlook and a tenant responds, their reply will go back to your Outlook and not to the software.
How do I send a document, like a Past Due Notice or a photo, through email?
You can't currently attach any documents to emails. However, this functionality will be added at a later date.
Can I view emails from the Task List?
Yes, you can. Just click Email Received on the Task List and you can view any unread replies.
Is there an extra fee to use two-way emailing?
Two-way email is included in your software, so it's absolutely free.
How do I email all of my tenants at once (send a bulk email)?
You can email all of your tenants at once by using our mass email functionality.