Does your marketing website admin look different than the screenshots you see below?
You may not be on our latest platform.
A widget, in the context of your marketing website, is a website component that serves a particular function. That function can be as simple as drawing attention to a particular feature you offer at your storage facility or providing visitors to your website with driving directions to your facility. Your marketing website admin provides you with a variety of customizable widgets, such as the hero section, map section, and call to action section of your website. Even the text and photo sections on your website are widgets!
This guide is intended to help you customize the non-text and photo oriented widgets on your website:
Editing the hero section
The hero section is the section of your homepage that your prospective customers see first. It generally consists of a large photo or slideshow with a heading, some text, and often a call to action button that links to your facility page.
Styling the hero section
You can edit the appearance of your hero section by clicking the top right corner and then selecting Edit.

The next window has two tabs. The Images tab allows you to add images to the hero slideshow. The Styling tab allows you to adjust the appearance of your hero. To style the hero section, click the Styling tab.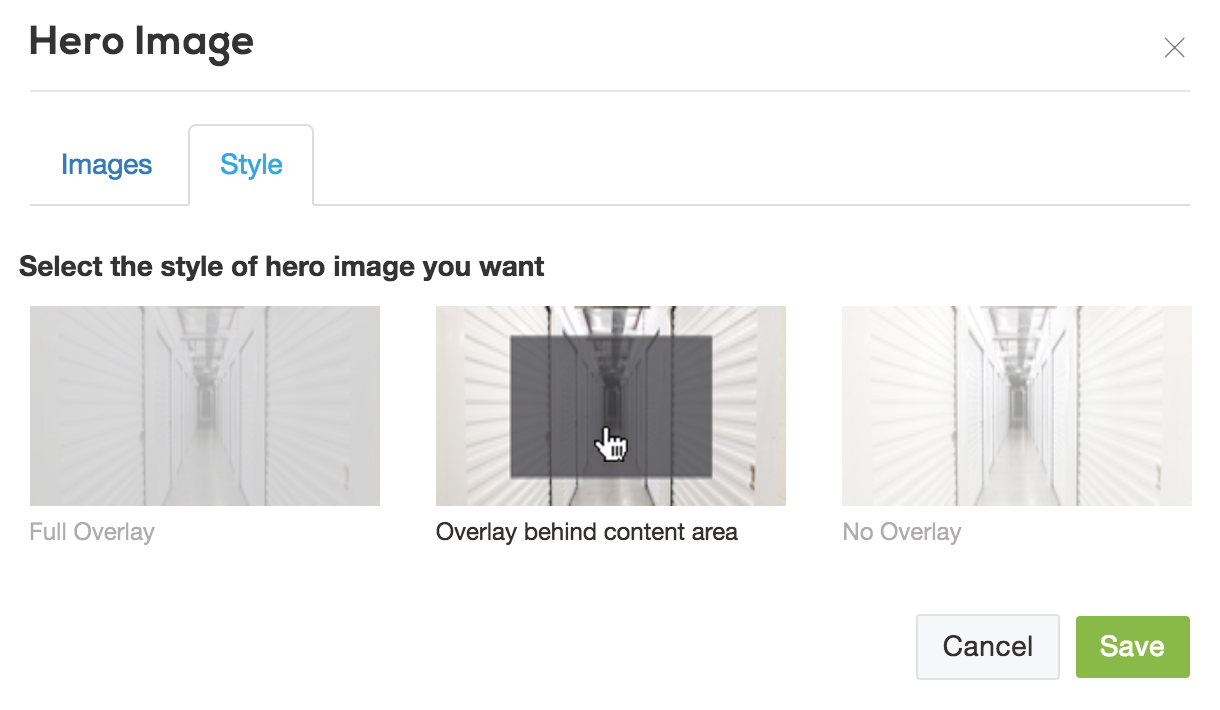 There are three options to choose from:
Full Overlay: This adds an overlay with a slightly darker background over your entire hero image.
Overlay behind content area: This adds a smaller overlay that appears just behind the content area.
No Overlay: This makes no change to your hero image, and your text content will appear directly on top of your hero image.
Select the overlay option you'd like to use and click Save.
Editing the CTA button
You can customize the button within your hero section by clicking the button and then selecting Edit.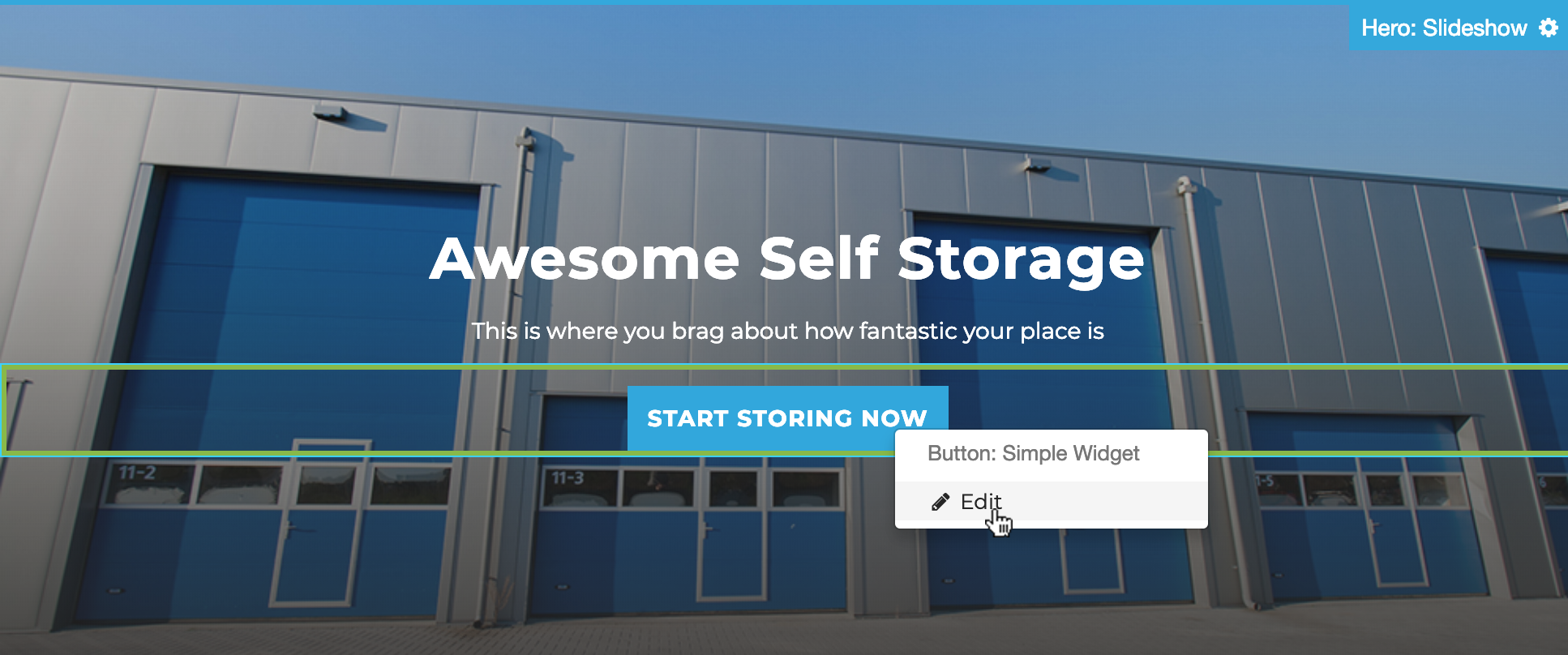 The Button Editor window will open. From here, you can customize what your button will say and where it will take a website visitor when they click it. If you'd like the button to link to an existing page on your website, you can enter the URL extension and select whether you'd like it to open in the same tab or a new tab. If you'd like to link to a separate website, enter the website's URL.
When you're finished, click Save.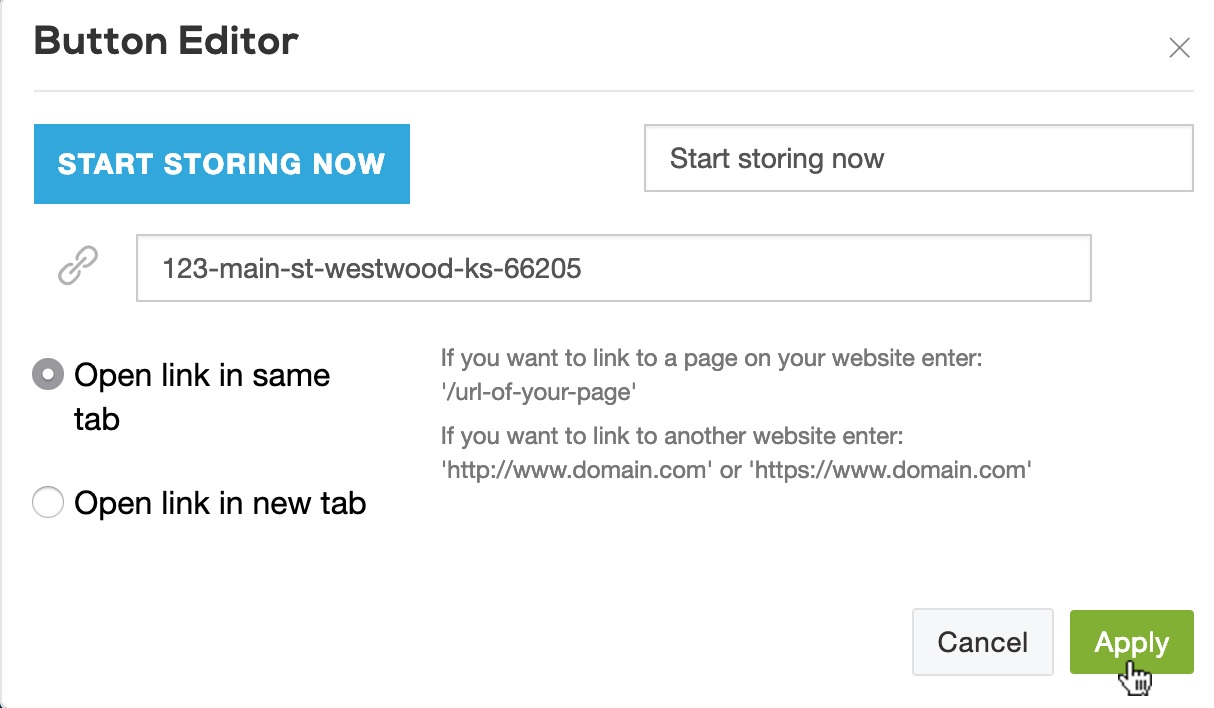 Editing Call to Action Icons
Your website's home page may feature Call to Actions (CTA) icons. These icons are used to call attention to attractive facility features. They also often link to other pages on your website. You can change which icons are used on your home page and add new links from your admin.
To change out a CTA icon, click the icon and select Edit.

The next screen allows you to select the icon you'd like to use. You'll notice that there are three categories of icons to choose from on the left of the window.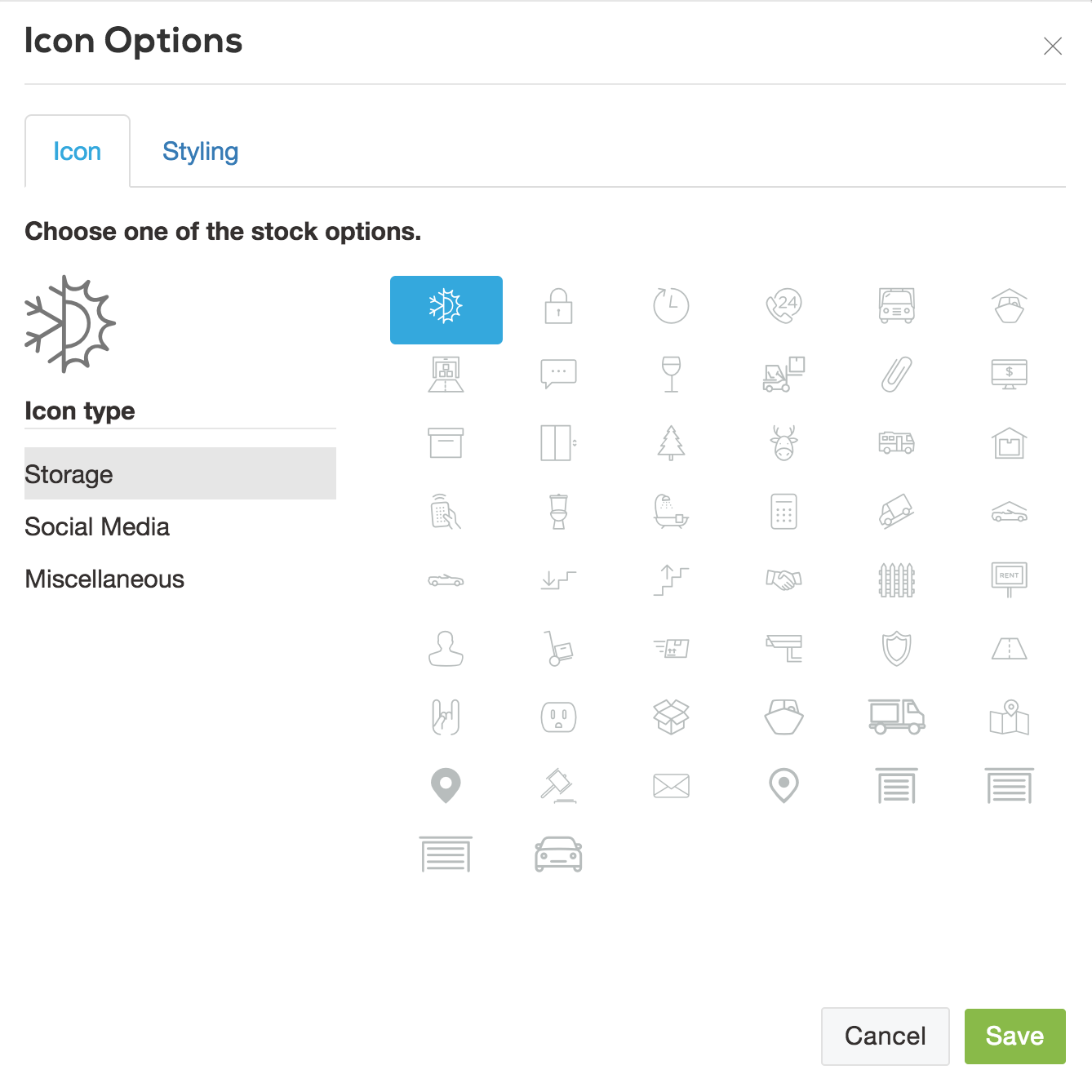 The Styling tab gives you ways to customize your icon. You can change the color, the alignment, or even add a link.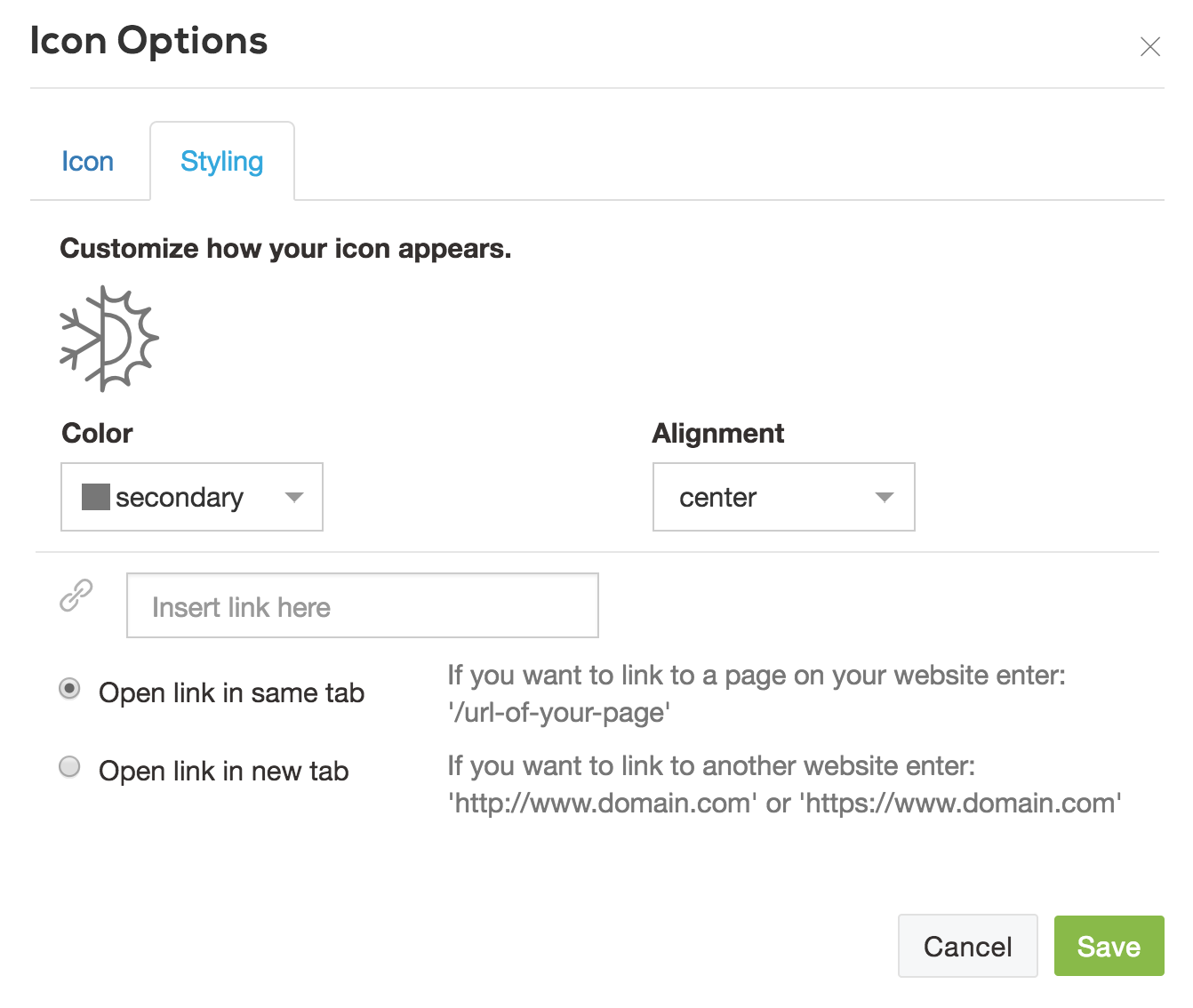 Once you've selected and styled your icon, click Save.
Editing coupons
If you have a coupon on your website, editing and formatting it is simple. Just click the coupon and select Edit.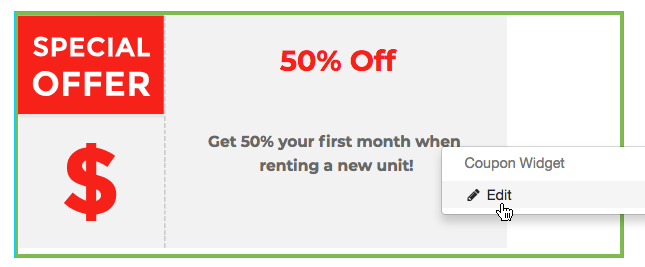 Your coupon editor has two tabs. Each tab gives you different options for editing and formatting your coupon.
Text
The Text tab allows you to make changes to the text that appears on your coupon. You can type text right into the text field to change your coupon details. You can also use the dropdown menus to format the offer (the top box) and the details (the bottom box). Your formatting options include bold, italic, strikethrough, and underline.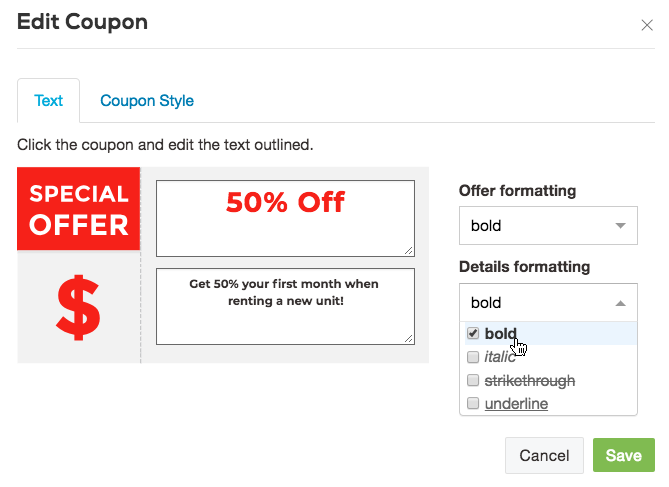 Coupon Style
The Coupon Style tab gives you options to change the appearance of your coupon. You can choose a different coupon shape from here or change the color of your coupon. Click the style of coupon you'd like to change the shape of the coupon. To change the color, select the dropdown under Coupon Color. You can select between your site's primary or secondary color, or you can select Custom to enter the hex code of another color.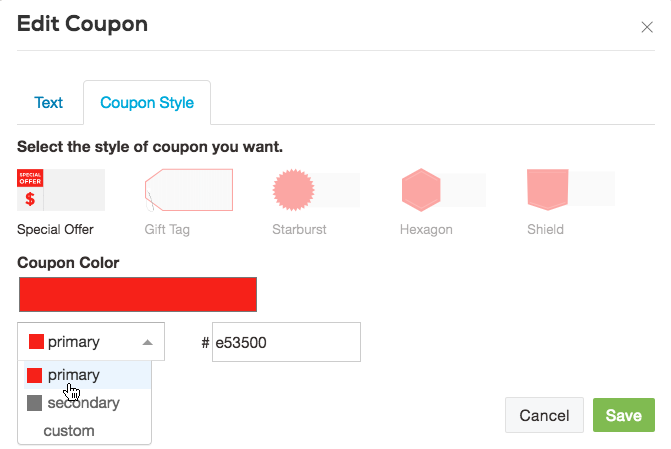 Once you're done making edits to your coupon, click Save.
Editing maps
Your website comes with one or more maps that have your facility's location pinned on them. If you have more than one facility, your maps might have several locations pinned. You can make adjustments to how your maps appear on your website by clicking on the map from a page's edit view and clicking Edit.
The next screen gives you several options. You can click Zoom in for a closer map view if you'd like specific streets and nearby locations to show. Alternatively, you can click Zoom out if you want the map to display a larger area. You can also click Position and then drag the map to position it how you'd like it to display.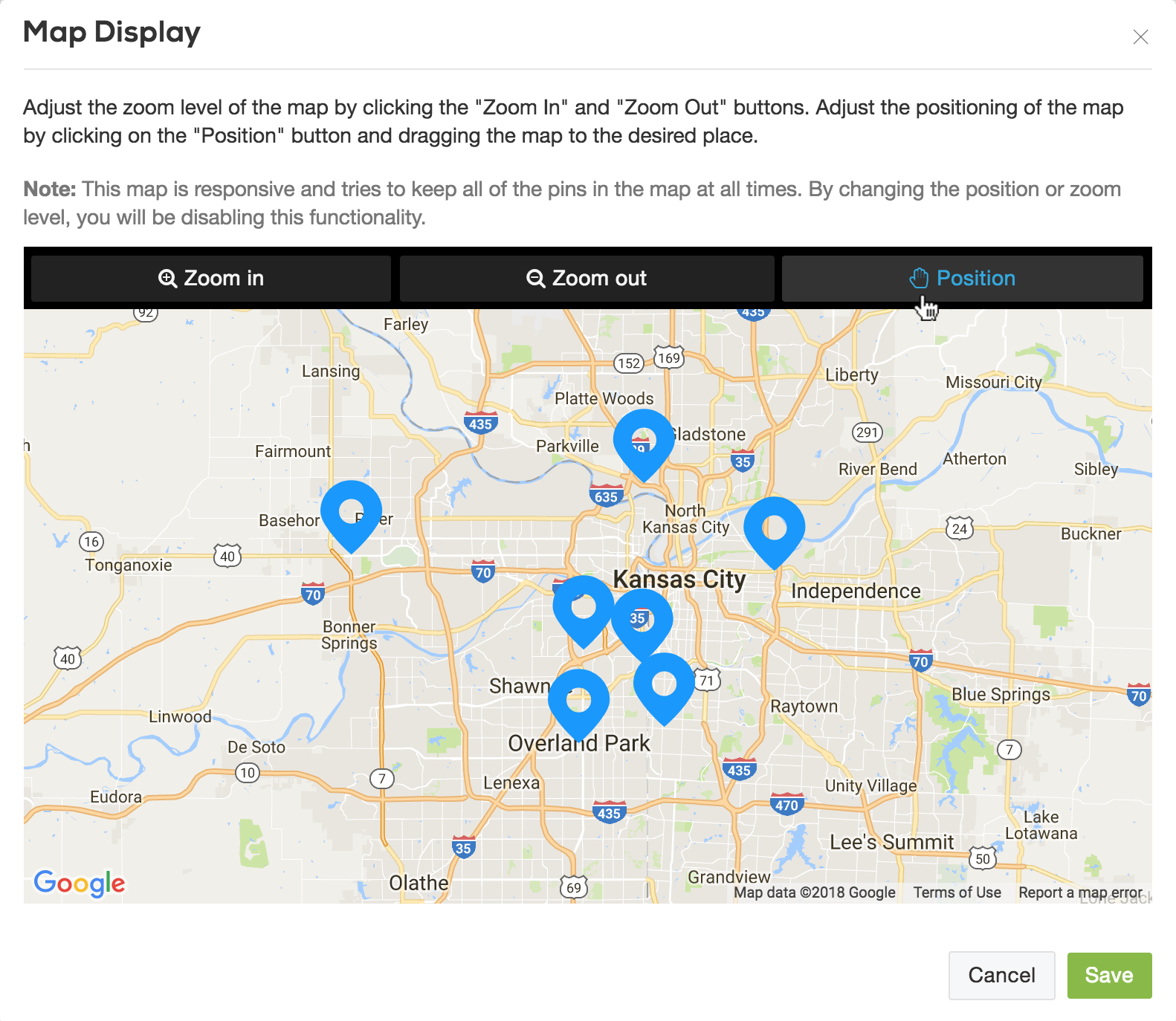 Once you've adjusted your map to the way you'd like it to display, click Save.
When you're finished making changes to your marketing website widgets, don't forget to publish your changes to ensure they show on your website.