Your new website serves the important purpose of representing your business. Your presence on the web enables potential customers to find your business online, learn more about what you offer, and make an informed decision to rent from your facility.
You're probably wondering what's next, when your site will begin to rank in search results, and what you can do to further customize and improve your website. If this is all overwhelming for you, don't worry - this guide will help you know what to expect and what you can do to make your website work best for your business.
This guide aims to answer common questions we often get about our customers' new websites. Customers often ask us about the following topics:

---
Upgrades from the storEDGE legacy website platform


I've recently upgraded to the new integrated platform from the storEDGE legacy website platform. Why does my website look different?
Congratulations on upgrading to our newest and best website technology! Our newer website platform offers you a mobile-first design and more advanced technology to offer your customers the best browsing and renting experience, regardless of what device they are using to view your website.
Websites on our newer platform look different than those on our legacy platform because they offer more customization opportunities rather than a templated, out-of-the-box solution. Our team built your website based on the styles, colors, and images used on your website on our legacy platform, and moved all existing content in the way we felt most logical. If you're interested in changing your website's appearance, there are a variety of ways you can do so. Our new platform offers many ways to customize your website's images, branding, colors, and content from your website's admin.
I used the legacy website platform, but it wasn't integrated with my software. Reservations made through my website didn't impact the unit inventory in my software. Is this going to change?
Some of our customers were using the Custom Unit Editor on the legacy platform that allowed them to create units in their website that were not connected to units in their software. This means that reservations were received as leads, and a reservation made on the website did not remove a unit from their software inventory. This will change with the new, integrated platform - the units that appear on your website will be mapped to an actual unit in your software. This means that when a customer reserves a unit from your website, that reservation will be reflected on an actual unit in your software. However, you can control the ability for customers to reserve units and move-in online in your website settings.
How is the new, integrated platform different from the storEDGE legacy platform?
Our new platform offers most of the same functionality that you're used to on the legacy platform, plus a mobile-first user experience, fast page load speeds, SEO-optimized infrastructure, and more customization opportunities.
storEDGE Software + Websites - Platform Comparison
| | Legacy Platform | New Integrated Platform |
| --- | --- | --- |
| Custom Content written by our team | ✅ | ✅ |
| Move-in Capabilities | ✅ | ✅ |
| Custom branding | ✅ | ✅ |
| Tracked Phone Line | ✅ | ✅ |
| Routine Page Experience enhancements | ✅ | ✅ |
| Scalable infrastructure to support best page performance practices | | ✅ |
| Mobile-first design | | ✅ |
| Media Gallery (image management) | | ✅ |
| Customizable layout | | ✅ |
SiteLink Software + Websites - Platform Comparison
| | Legacy Platform | New Integrated Platform |
| --- | --- | --- |
| Custom Content written by our team | ✅ | ✅ |
| Move-in Capabilities | ✅ | ✅ |
| Custom branding | ✅ | ✅ |
| Tracked Phone Line | ✅ | ✅ |
| Routine Page Experience enhancements | ✅ | ✅ |
| Scalable infrastructure to support best page performance practices | | ✅ |
| Mobile-first design | | ✅ |
| Customizable layout | | ✅ |
| Media Gallery (image management) | | ✅ |
| Advanced Move-in Capabilities | | ✅ |
| Customizable units table | | ✅ |
---
Browsers & Mobile-first design


What is mobile-first design?
Mobile-first design means that your website was designed to accommodate website visitors who are using a mobile device to browse online. Since at least of half of people browsing the internet are doing so on mobile devices and mobile viewing has steadily increased, we can expect that mobile viewing will only continue to rise. Your website has been designed to ensure the best possible experience for your customers when they are browsing, reserving, moving in, and making payments through a mobile device.
Will my website work on any browser?
Your website is built to work on the most common browsers in use. Currently, we support the latest versions of Safari, Google Chrome, and Microsoft Edge. This means that we keep up with and accommodate browser updates to ensure the best possible website performance on those browsers.
We do not support deprecated browsers. A deprecated browser is a web browser that is no longer maintained and is rarely used - usually because it has been replaced with better-performing technology. Internet Explorer is an example of a deprecated browser - Microsoft has replaced it with Microsoft Edge and no longer maintains it.
---
What you can change on your website from your website's admin


Website Content & Appearance


Can I change the images and text on my website myself?
Absolutely! Your website admin provides you with an easy-to-use media gallery to change out your images. Additionally, you can edit any text on your website with ease. We recommend looking at our guide on editing your website content for more information.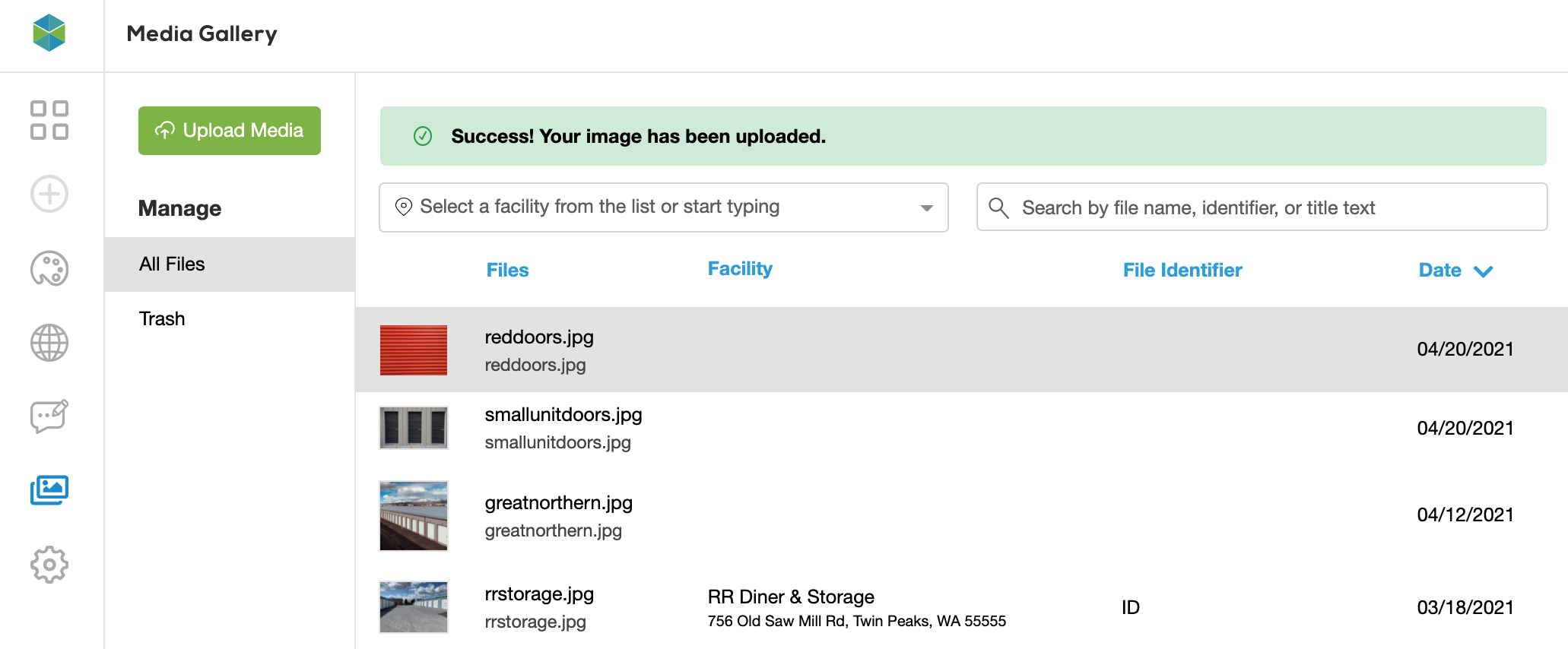 I have several different facilities on my website, and some of them use a different brand name, logo, and colors. Can I customize the branding across the different pages of my website?
Yes. You can apply branding defaults to your entire website and apply custom branding to specific facility listings from your website admin. This allows you to have multiple facility brands on a single website.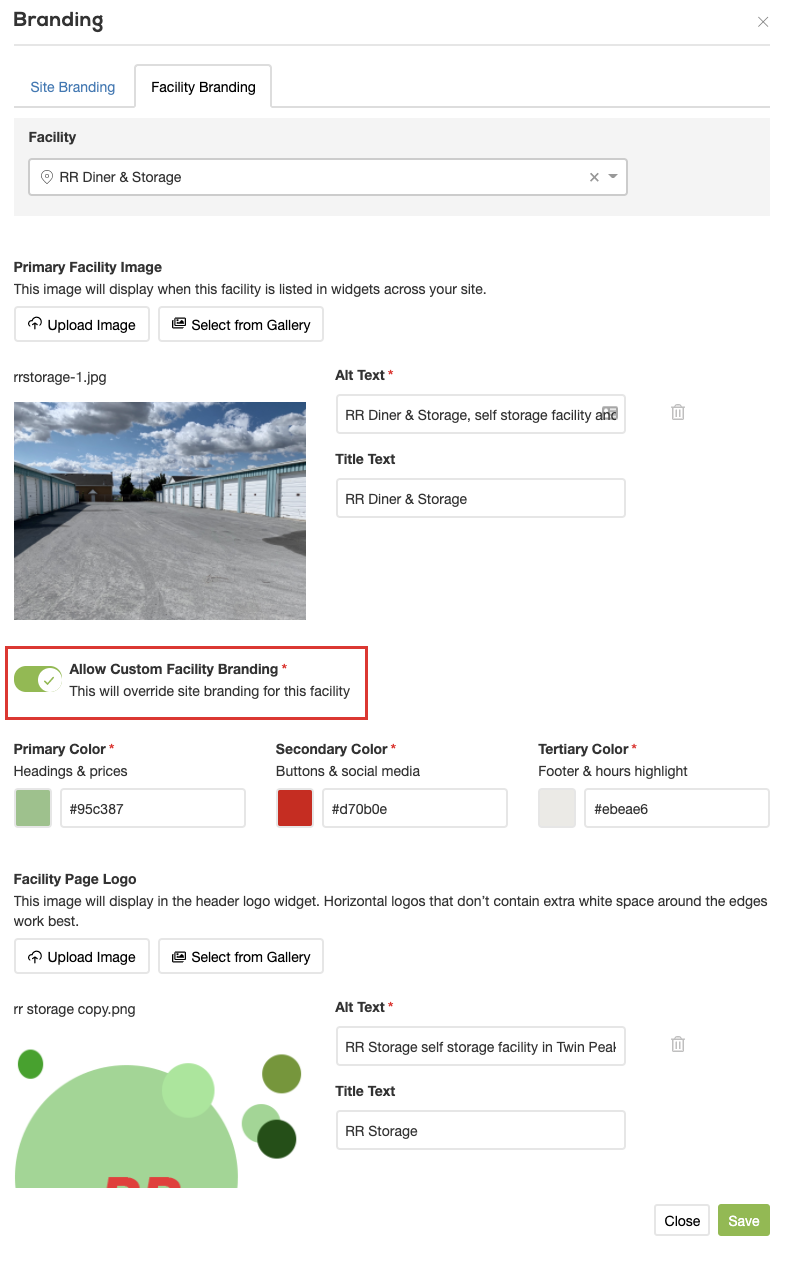 To learn how to customize your website branding, check out our handy guide.
Can I change the icons that appear on my website?
Yes - your website admin provides a broad variety of icons to choose from. To edit icons, just click the icon from a page's edit view and select a different icon.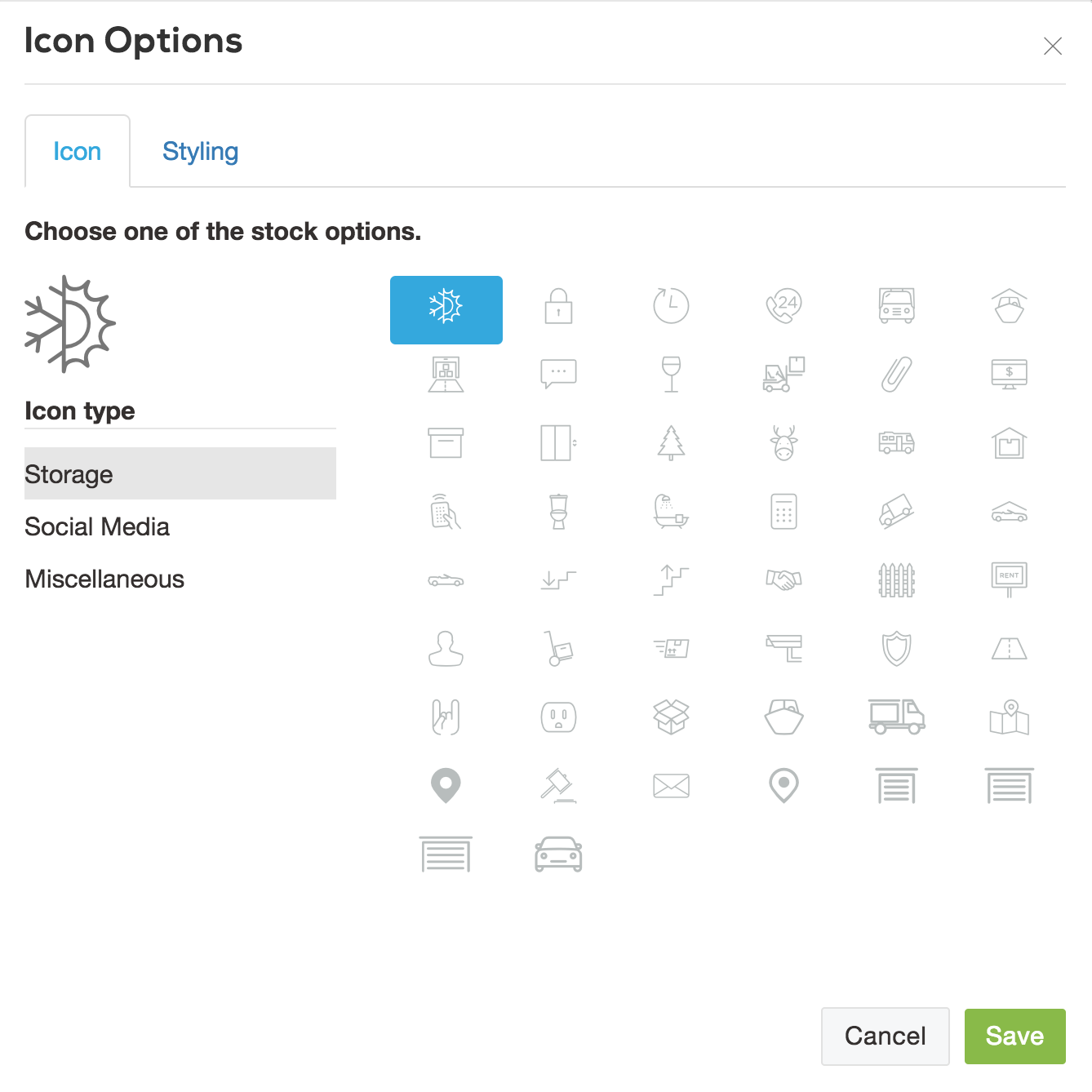 Website Settings & Functionality


Can I change how rentals are categorized on my website?
Can I disable reservations or move-ins?
---
What types of website changes our Support team can make for you


Although your website admin gives you the ability to make changes to a variety of aspects of your website, there are some changes that are best made by our Support team to ensure that your website continues to function as expected. Don't worry - you're in good hands! Our Support team can help you with:
Adding new sections or re-arranging existing sections on your pages

Adding additional pages to your website

Updating the navigation menu
---
Google Ranking and Search Engine Results


My website is live. Why isn't it ranking yet?
We know this isn't the answer you want, but in short, it takes time before you'll rank. Google has billions of websites to crawl, and your site isn't going to rank until it has been live for a few weeks because Google has to crawl it first. Google's busy - they crawl billions of websites every day. We hope Google will get to your site quickly, and we'll do what we can on our end to nudge them to do so.
How does Google decide where my website appears in a search?
Google ranks websites in a search based on a variety of factors, such as the way your site is coded, your content, how fast your website loads on the page, and how your visitors interact with your website. Your rank is where your website appears in search results based on what was searched. Your site is only going to rank for terms that your content is catered toward. If people are searching for RV storage, and you don't offer it, you most likely won't rank for RV storage. Additionally, your location makes a huge difference. Make sure your Google My Business listing is up-to-date and your location is verified!
When will I see results?
Although it's a wonderful thing to have a high ranking, what's most important is that the visits to your site result in good leads. Our job is to ensure the visitors that make it to your site feel compelled to ultimately rent with you. So many things come into play when Google ranks sites that we can't guarantee you'll rank first in every search for self storage in your city. And sometimes it takes weeks, months, or years to rise to the top. However, we do think it's safe to say you'll get a healthy boost in leads 4-6 weeks from your website's launch.
How can I rank higher in search results?
Fortunately, there are a lot of things you can do that can potentially help you rank better. Make sure your Google My Business listing is up to date and accurate, for one. This helps with local search - and local search will help you rank better for your area. It will also help customers find your facility when they're on the road, and it's a good way to gather more reviews.
What is SEO?
SEO (search engine optimization) is a set of processes and strategies that helps a website communicate effectively with search engines, with the goal of appearing high in the list of search results for specific search keywords. Keywords are the words that someone is using to make a search, for example "self storage in Kansas City," or "climate controlled storage".
How do I set up Google Maps?
It's very important to get your Google listing verified. Having a verified Google listing can help you gain more traffic to your website. It also helps visitors find your facility's physical location, which will bring you better leads. Google makes it fairly painless to get your listing claimed and verified on Google. Just go to Google My Business and follow Google's steps to claiming and verifying your business listing. If you need help with this, feel free to reach out to our support team and we'll help you through the process.
---
Reviews, Email & Social Media


How should I respond to negative reviews of my business?
If your facility has been given some negative reviews, try to take it in stride. Even the best businesses get a negative review here and there… it's par for the course. It's tempting to respond defensively, but we urge you not to. The storEDGE blog has a helpful article on how to respond to negative reviews that we suggest you read. However, the best way to avoid a negative review is something you're probably already doing: treat each customer fairly and provide great customer service.
Can I keep negative reviews off my website?
Yes, you can. You can choose which reviews appear on your website, and you can simply exclude any reviews you don't want. However, this doesn't remove the negative review from other locations on the internet.

How do I set up my email account?
We don't host your email, so you'll need a third party. But don't worry - it's pretty painless to set up with Google apps for business. Just​ walk through the steps through G-Suite​ and Google will take good care of you!
How do I run a successful Facebook or Twitter account to bring more traffic to my website?
We have an excellent resource for you. Check out our resource for setting up social media accounts for your storage business on the Storable blog.